1 ON 1 Lyric is a freshly released Punjabi number by Jassa Dhillon, Gur Sidhu. Gur Sidhu came-up with the music for 1 ON 1. The poet Jassa Dhillon scripted the well-received lyrics of the Punjabi song. Brown Town Music directed the music video of '1 ON 1', released on March 23, 2021.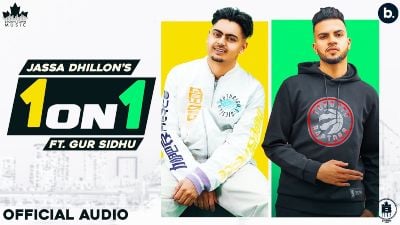 1 ON 1 Punjabi SONG LYRICS • Gur Sidhu • Jassa Dhillon
Rack Ae Ponda De Vade Aa Khab,
Down Ae Dhilon Te Kehnde Aa Sab,
Theek Ae Jida Vi Change Aa Made,
Bande Je Side Te Tede Vi Bahle,
Ankhan Toh Parde Aa Lagge Jo Shaki,
Horan De Ser Aa Feel Nai Chaki,
Chaki Aa Bit Te Poori Bale,
Squad Aa Litt Te Baki Aa Thale,
Jine Vi Auna Aa Kale Nu Kale,
Kale Nu Kale,
Ho Sade Na Agge Na Piche Na 40,
Hik Ch Vajjde Adi Na Lali,
Lofer Aa Look Te Puri Aa Thuk
Pehile Ishare Na Layinde Aa Chuk
Hare Aa Ghatt Te Jitte Aa Vad
Honde Te Mare Aa 13 Ch Cut,
Suke Na Mude Aa Jine Vi Aaye,
Yaran Ne Vajya Vang Vjaye,
Hash Te Dash Te Vadu Ltaye,
Jide Di Nakhro Kargi Bye,
Oh Jide Di Nakhro Kargi Bye,
Gur Sidhu Music
Fear Aa Less Te Life Aa Chess,
Tan Hi Tan Lat Machayi Aa,
Yatt Di Beat Te Laini Aa Haunke,
Yad Tan Baby Aayi Aa,
Rehnde Aa Shoot Te Shooter Shikari,
Pake Nishane Te Pake Likhari,
Aaun De Vari Dekhi Garari,
Kholugi Nadi V Gadi Di Bari,
Ho Pinda Toh Uthhe Aa Uthe Varole,
Shor Aa Kabbe Te Ohne Raule,
Sidhu Te Gun Di Bamb Aa Jodi,
Sheikh Je Shaunk Te Nasal Di Ghodi,
Umar Aa Thodi Vade Aa Trip,
Vibe Aa Vibe Aa Vibe Aa Sick
Lokan Di Sardi Yara Di Chandi,
Cara Si 3 Ma Hor La Aandi,
Lot Aa Kam Na Laggi Sceem,
Kil Vi Kitte Na Dekhe Dream,
Sal Aa Dooja Te Mainstream,
Peak Te Ghumdi Yara Di Team,
Frame Ch Chobar Aa Game Ch Kine,
Jehra Aa Man Da Jatt De Seene,
Baz Na Kithon Ralde Cheene,
Jine Vi Rakhe Aa Yar Nageene,
Yar Nageene,
Bazi Vi Layi Ae Dooni Chdhayi Aa,
Change Recard Na Back Dikhayi Aa,
Tode Aa Nake Khule Je Khate,
Soch Toh Pare Jo Hind Pagai Aa,
Unchi Aa Dack Te Uche Ae Jeck,
Desi Vi Poore Aa Aundi Aa Tech,
Cheese Je Munde Di Rees Na Koi,
Check Je Kare Te Fees Na Koi,
Yara Di Yari Ch Lease Ni Koi,
Oh Hr 40 Toh Khali Si Chale,
Buke Ni Gajje Aa Dam Aa Pale,
Ho Jine Vi Auna Aa Kalle Nu,
Kale Nu Kale,
Oh Kale Nu Kale
Gur Sidhu Music

Gur Sidhu, Jassa Dhillon sings the 1 ON 1 song and it has its lyrics written by Jassa Dhillon, music composed by Gur Sidhu.