52 Bars Punjabi Song Lyrics With English Translation by Karan Aujla: 52 Bars, a Punjabi track sung by the talented artist Karan Aujla, is a testament to the singer's resilience and determination. The lyrics, penned by the singer himself, recount his life story and the challenges he faced along the way. Karan's powerful delivery of the lyrics is coupled with an upbeat melody composed by Ikky, making 52 Bars a catchy and uplifting song that listeners are sure to love.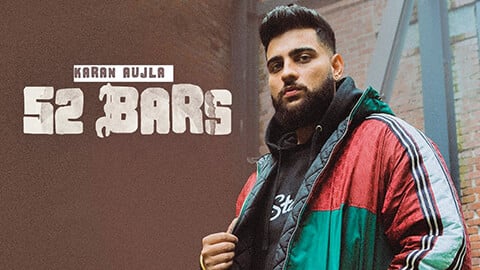 We hope you love reading the cordial lyrics of Karan Aujla's freshly published Punjabi song 52 Bars. The poet Karan Aujla notes down the fashionable lyrics.
KARAN AUJLA · 52 BARS SONG LYRICS ENGLISH MEANING
Vade Karke Na Kade, Eh Zuban Mukri,
I've always kept my mind the same after pledging.
Jehde Fukre Ne Muhron, Ohna De Layi Fukri,
Those who like to boast, I prefer to imitate.
Hun Mitran Nu Shaunk Hai Ni, Race-an Laun Da Ni,
I don't particularly appreciate competing with others.
Ni Meri Khich La Lagam, Mainu Aakhe Nukri,
My horse wants that I hold her bridle as I ride.
Chitti Sohniye Kabootri Vi, Rakhi Hoyi Ae,
I have a white pigeon as a pet.
Kali Already Mitran Ne, Shaki Hoyi Ae,
I've already taken opi_m.
Thoda Dekh Ke Friend-An, Kar Choose Nakhro,
Girl, it would be best if you use caution while selecting friends,
Ni Mainu Tere Nal Di Ne, Jhalli Pakhi Hoyi Ae,
Since many of your friends have already fallen in love with me.
Sanu Patdi Ae Sadgi, Na Patte Surkhi,
Lipsticks do not wow me; simplicity does.
Ni Main Suttan Mexico, Kude Uthan Turkey,
I sleep in Mexico and awake in Turkey.
Mera Chef Sun Kehnda, Ajj Ki Khaoge Ni,
My chef asked me what I wanted for a meal today.
Dekh Baitha Main Dubai, Kude Todan Burki,
As you can see, I'm enjoying my meal while sitting in Dubai.
Eh Tan Lokan Nu Hi Chaleya, Ni Luck Laggeya,
People say I was fortunate to achieve.
Mera Kini Vari Dharti Nal, Nak Laggeya,
But I know how many times destiny has thrown me to the ground.
Jadon Hik Utte Vvs Shine Kardi,
When the VVS diamond shines on my chest,
Bai Pata Lagda Ke 22 Lakh Laggeya,
Everyone can see how much I spent on it.
Aa Dekh Hip Te Clip Biba Mare Sehntan,
Look at how the clip on my hip is drawing attention to itself.
Manifest Vi Kare Nale Kara Mehntan,
It demonstrates that I work hard.
Tainu Pata Hoju Velly Na Pyar Goriye,
You're scared of falling in love with this wild one,
Ni Tu Akh Nal Milave, Lake Rakhe Ainakan,
Which is why you're wearing sunglasses.
Asi Pith Te Ni, Hik Utte Var Karida,
I don't backstab; instead, I attack the chest.
Aapan Jealousy Ni Karde, Pyar Kari Da,
I don't feel jealous, and I like showering affection to others.
Ho Aadi Bhannuga Ya Record Toduga,
The way I train people,
Banda Asi Jehde Hisab Nal, Taiyar Kari Da,
They either smash records or break egos.
Kade Gaya Ni Dhayan Tan, School-An Te Kude,
I've always needed to focus on my academics in school.
Langi Jandi Life Bapu De, Asoolan Te Kude,
Instead, I have lived my life based on my father's lessons.
Jithe Mildi Ni Matt Behas Karda Ni Yar,
I prefer to avoid arguing when my opinions are contradictory.
Chup Bula Utte Aa Te, Kaato Khula Te Kude,
While my life is going well, I remain quiet.
Mera Pehla Pehla, Kandeya Ne Pair Vadta,
Thorns used to bother me,
Mera Time Aaya, Kala Kala Kanda Kadta,
but as time passed, I removed all the thorns.
Kalle Da Hi Rohb Aa, Bathera Goriye,
I am highly influential on my own,
Ni Tan Hi Toleyan Ch, Mitran Ne Auna Shadta,
Which is why I have ceased coming with the team.
Vekh Gutt 41 Millimeter Kude, Dekh Jatt Thale Car 2 Seater Kude,
Check out my 41-millimeter luxury watch and the two-seater automobile I drive.
Sawa Lakh Di Si Whiskey Macallan Layi, Das Minute Ch Mukati Ek Litre Kude,
I drank the costly whisky in ten minutes.
Haye Ni Tainu Diary-an Hi De Doon Behke Foli Varke,
I'll give you all the notebooks so you can keep reading.
Lai Javin Gyan Biba Kole Khad Ke,
Being in my company might teach you a lot.
Kaliyan Di Knowledge Batheri Jatt Nu,
I am well-versed in folk tunes. Nonetheless,
Ni Hale Likhda Ni Gane, Main Kitaban Padh Ke,
I have yet to begin creating songs by drawing inspiration from books.
Kade Socheya Ni Kina, Utte Chake Patshah,
I never realized how kind God has been to me.
Khush Rehne Aa Ni Jithe, Sanu Rakhe Patshah,
I am content where God has placed me.
Ese Kakre Ni Kade, Kitte Jhooth Boleya,
That is why I have never lied,
Kyunki Utte Baitha, Dekhda Ae Sache Patshah,
Since God is always watching.
Ni Aa Jeyondiyan Zameeran, Dekh Bal Rahiyan Ne,
As you can see, the living conscience of people is dead.
Mainu Ajj Das Kal Diyan, Kal Rahiyan Ne,
Today they are showing me their future.
Kade Kade Chevy Nu Chalavan Goriye, Ni Dekh Jatt Diyan, Panj Sense-An Chal Rahiyan Ne,
I only drive a Chevy on occasion. However, I always employ all five of my senses.
Jadon Khet Dekheya Te, Aapan Vauni Sikh Li,
I learned to farm after seeing the fields.
Jadon Mili Mehbooba, Te Barauni Sikh Li,
I learned to love once I met my girlfriend.
Overall Tan Halat, Aap Thik Kare Ni,
I improved my whole situation entirely on my own.
Ni Roti Paki Ni Mili Te, Aapan Launi Sikh Li,
I learned to cook since there was no one to cook for me.
Ese Karke Ni Kade, Kitte Jhooth Boleya, Kyunki Utte Baitha, Dekhda Ae Sache Patshah,
That is why I have never lied since God is always watching.

52 Bars Punjabi Music Video | Karan Aujla
The video, directed by Amrit Thind, perfectly captures the song's essence, with Karan delivering an emotionally charged performance that will inspire listeners. This song is a part of Karan's Four You – EP album, and it's a must-listen for anyone who loves uplifting and empowering music. Whether you're a fan of Karan Aujla or simply looking for a feel-good track to add to your playlist, 52 Bars is sure to leave you motivated and inspired.
52 Bars Song Details
Title of Song
52 Bars
Lead Singer
Karan Aujla
Lyrics
Karan Aujla
Producer
Ikky