7 Janam Lyrics is a Punjabi love song from George Sidhu featuring Kanika Mann in the video, directed by Director Prince. AVLO's created music beats of "7 / SAT JANAM" track while its lyric are hand written by George Sidhu.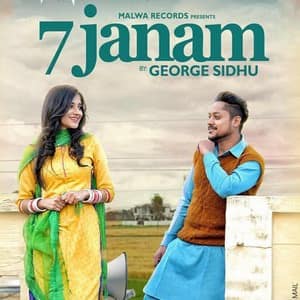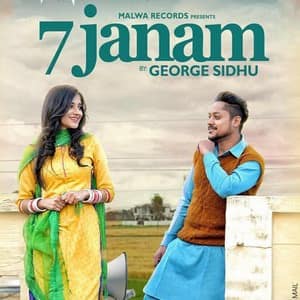 Song: 7 Janam
Artist: George Sidhu
Lyrics: George Sidhu
Music: AVLO's
Label: Malwa Records
GEORGE SIDHU WITH 7 JANAM SONG LYRICS
Ve nazar na lage tenu
Mirchan main vaardi
Kadar karaan main tere
Saade parivar di,
Saure ghar aake farak na lageya
Meri maa de waang bebe pyar kardi,
Gal sat janma di na main boldi
Bas iko ch nibha di sattan wargi -x2,
Sohneya ve.
Ve rang bhaawein pakka tera
Dil da tu saaf ae
Hasda tu sohna lagge
Ve nira dullda shwaab ae -x2.
Ve jine saah ne teri bukkal ch kattne
Bas rabb ton duavan eho kardi,
Gall 7 janaman di na main boldi
Bas iko ch niba di sattan vargi -x2,
Soneya ve.
Ve vanjhli di hook jive
Dil nu ae thaardi
Mainu onve chardi ae
Lor tere pyar di x2.
Ikk jutt rakhun sare parivar nu
Tere naal sidhua main vaada kardi,
Gal 7 janam-an di na main boldi
Bas iko 'ch nibhade sattan wargi, sohneya ve.
Main kina tenu pyar karda
Eh kive tenu dassan soniye
Lafaz mere ko koi na
Bas tere vich vassan hiriye -x2.
Haan tere vich vassan soniye
Sachi tere vich vassan hiriye -x2.