94 Flow Lyrics by Big Boi Deep: It is a cool and a mind-blowing Punjabi song. Byg Byrd is the originator of right music. The refined 94 Flow Punjabi lyrics of the track are summed up by Big Boi Deep. The estimable music video of the agreeable warble is controlled by Andy, Jyothi Tatter.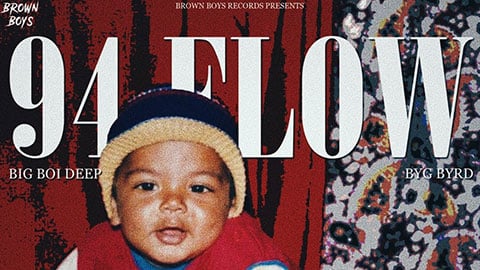 Read the breathtaking lyrics of Big Boi Deep's up-to-the-minute Punjabi song 94 Flow. The author Big Boi Deep scripts the honored lyrics.
BIG BOI DEEP · 94 FLOW SONG LYRICS
Na Na Na,
Oh Sadi Hundi Hai Pashaan, Jithe Jake Khad De,
Naran Piche Nahiyo, Yaran Piche Lad De,
Dagebazi Nalo Vadi Chiz Koi Na,
Oh Back Chake Ni Step, Ik Wari Dhar Ke,
Door Daru To Ha, Ishq Ya Afeem Nal Ni,
Sir Chak'ke Turi Da, Bilo Team Nal Ni,
Dekh Shortan Nu Kade, Sittiyan Ni Lara,
Nahi Kita Kade, Kareeb Nal Ni,
Oh Pair Pair Ute Baithe Sap Goriye,
Hath Siriyan Nu Pa Laiye Nap Goriya,
Sadeyan Akhadeyan Nu Ch Launde Ne Schema,
Team-An Badalke Kehnde Assi Att Goriye,
Oh Eh Sal Gane Tad Tad Chapedan Wangu,
Na Na Wajje Te Mera Na Vi Jersy Wala Na Manni Tu,
Oh Yar Mar Ni Kari Te Akh Maadi Rakhi Ni,
Lag Horaan Piche Kade Att Bahli Rakhi Ni,
Jine Ku Pani Ch Ohna Rakhida Stand,
3-5 Jeda Karu Bah Ponde Paki Ni,
Oh Game Name Fame Ditta Sab Rabb Da,
Oh Mera Dade Jeya Sokha Jatt Nahiyo Dabda
Mareyan To Bad Sanu Pta Ni,
Rakane Hath Jiyonde Ni Pale Banda Nahiyo Labda
Ishq Kitta Te Kitta Shaream Ni,
Khas Rakhi Gal Kade Kitti Aam Ni,
Power Na Nasha Kade Chadeya Ni Sir,
Deep Jersey Da Bilo Jatt Da Ae Nam Ni,
Ajj Tak Kade Kisse Da Mahda Mangeya,
Par Jado Pta Lag Jaye Na Sada Koi,
Mahda Mangan Deya Te Cheeka Kadayi Diyan Cheeka,
Oh Oh Oh,
Paise Di A Game Fame Chase Karde,
Koi Saka Nahiyo Duniya Ch Kisse Da,
Samne Smile Piche Hate Karde Oh,
Khush Hunde Nahiyo Dekh Success Kisse Da,
Oh Duniya De Nal Nal Chalan Hiriye,
Pehla Turde Si Nal Hun Kala Hiriye,
Dar Khauf Dilo Dekh Sare Kad Te,
Mera Mout Nal Ishq Awala Hiriye,
Legend-An Di Leage Wicho Bahar Baliye,
Rakhi Dil Vich Kisse Layi Na Khar Baliye,
Pyar Na Bulaye Layiye Sir Chad Ni,
Oh Tatta Bolda Te B__D Paad Baliye.

94 Flow Punjabi Music Video | Big Boi Deep
Let's stream today's music video for 94 Flow with involving lyrics charmingly hummed by Big Boi Deep.
94 Flow Song Details
Name of Song
94 Flow
Songster
Big Boi Deep
Writer of Poetry
Big Boi Deep
Music Director
Byg Byrd