Aadharanjali Lyrics from the Malayalam movie 'Romancham' featuring Arjun Ashokan, Soubin Shahir is a lovely song, and it has a pretty aria by Sushin Shyam. The nifty lyrics of the Aadharanjali ballad are summed up by Vinayak Sasikumar. Sushin Shyam is the music writer of ADHARANJALI's enthralling music. The tempting music video of the descant is operated by Jithu Madhavan.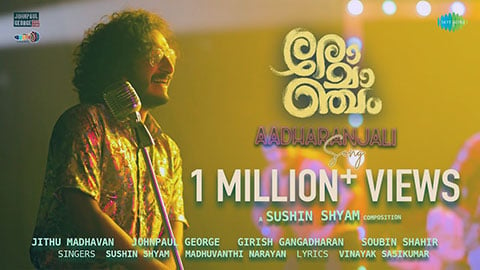 Play the Aadharanjali Song Lyrics that Sushin Shyam tastefully sung and are featured in the Romancham film of Soubin Shahir, Arjun Ashokan . Vinayak Sasikumar has inked down the Aadharanjali Malayalam lyrics and Jithu Madhavan control the music video.
ROMANCHAM MALAYALAM MOVIE · AADHARANJALI SONG LYRICS
Sughikkam Va Mooshikare Vari Vari
Ini Mel Nam Otta Muri Otta Viri
Bhajikkam Va Othu Chollam Daiva Mozhi
Vilicho Nee Ethukilla Rakshayini
Puthaykkanay Kanji Mukkam Vella Thuni
Pukaykkanay Chandanathin Thiri Mathi
Alankaram Randu Veetham Panjiyunda
Avasanam Vishramikkan Manninnadi
Petteem Payeduthini Vathilu Muttam Viralillathe
Natta Pathirakkoru Pattu Muzhakkam Pathivillathe
Pettennake Munnile Bhithiyiloro Nizhaladumbol
Kandittodidalle Oriyidalle
Cheyum Pizha Pizha Pizha
Athin Vila Kodum Vila
Thettum Nila Sama Nila Motham Vira Vira
Thuppum Nura Patha Chora Karakondu Niraykkum Pura
Ningalkkadaranjali Neratte
Ningalkkadaranjali Neratte

Romancham Film's Aadharanjali Music Video | Arjun Ashokan | Soubin Shahir
Take a look at the freshly released music video for Aadharanjali from a tempting movie Romancham.