Aadharanjali Lyrics with translation in English from the Malayalam movie 'Romancham' featuring Arjun Ashokan, Soubin Shahir is a lovely song, and it has a pretty aria by Sushin Shyam. The nifty lyrics of the Aadharanjali ballad are summed up by Vinayak Sasikumar. Sushin Shyam is the music writer of ADHARANJALI's enthralling music. The tempting music video of the descant is operated by Jithu Madhavan.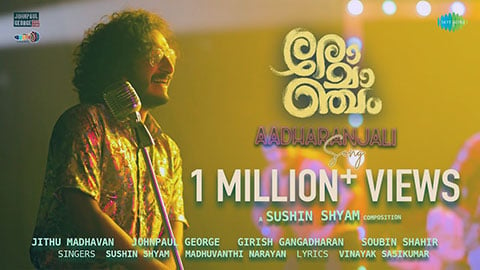 Play the Aadharanjali Song Lyrics that Sushin Shyam tastefully sung and are featured in the Romancham film of Soubin Shahir, Arjun Ashokan . Vinayak Sasikumar has inked down the Aadharanjali Malayalam lyrics and Jithu Madhavan control the music video.
ROMANCHAM MALAYALAM MOVIE · AADHARANJALI SONG LYRICS ENGLISH MEANING
Sughikkam Va Mooshikare Vari Vari
Hey rodents, come this way to enjoy yourselves
Ini Mel Nam Otta Muri Otta Viri
Let's live together hereafter
Bhajikkam Va Othu Chollam Daiva Mozhi
Come, let's offer prayers jointly
Vilicho Nee Ethukilla Rakshayini
There's no way out of this now

Puthaykkanay Kanji Mukkam Vella Thuni
To cover us, will starch white cloth.
Pukaykkanay Chandanathin Thiri Mathi
To smoke, incense stick is enough.
Alankaram Randu Veetham Panjiyunda
Decorations of two types, with cotton balls.
Avasanam Vishramikkan Manninnadi
In the end, will rest under the earth.

Petteem Payeduthini Vathilu Muttam Viralillathe
Come knock on my door with your things
Natta Pathirakkoru Pattu Muzhakkam Pathivillathe
Let's play earsplitting music at night
Pettennake Munnile Bhithiyiloro Nizhaladumbol
If you come across an eerie shadow on the wall
Kandittodidalle Oriyidalle
Avoid running away or shrieking

Cheyum Pizha Pizha Pizha Athin Vila Kodum Vila
Make an error, pay a price for it
Thettum Nila Sama Nila Motham Vira Vira
Go off your rocker. Shake with fear, spit the lather.
Thuppum Nura Patha Chora Karakondu Niraykkum Pura
Bath the house in blood
Ningalkkadaranjali Neratte, Ningalkkadaranjali Neratte
Let me pay my homage to you.

Romancham Film's Aadharanjali Music Video | Arjun Ashokan | Soubin Shahir
The song "Aadharanjali" from the Malayalam movie "Romancham" is a haunting melody that evokes a sense of fear and darkness. Sung by Sushin Shyam and Madhuvanthi Narayan, the lyrics by Vinayak Sasikumar depict a world where there's no way out of the night that surrounds us. The music composer Sushin Shyam has done an excellent job of creating an eerie atmosphere with his music. The lead actors Anantharaman Ajay, Arjun Ashokan, Chemban Vinod Jose, and Soubin Shahir have done justice to the song by portraying the emotions of fear and desperation in their roles.