"Aaina," a soulful Hindi rap track by the talented Young Galib, is not just a song but a profound reflection on life, humility, and self-discovery. The lyrics of this song carry a powerful message that transcends music and delves into the human experience.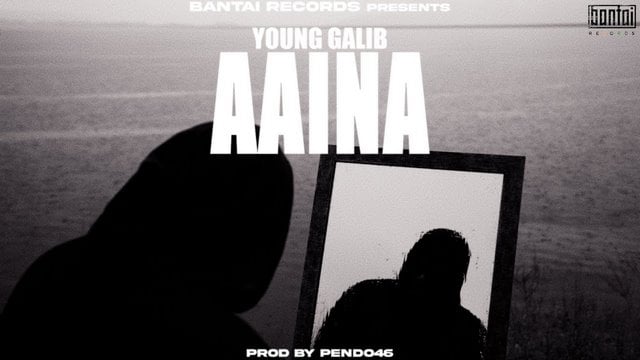 Young Galib, the singer and lyricist, shares a deeply personal journey through his words. He reveals a period when he grappled with arrogance and self-pride. However, he acknowledges that it was a pivotal moment when he saw himself in the mirror, metaphorically speaking, and realized the destructiveness of his arrogance. This moment of self-awareness transformed him, reminding listeners of the importance of humility and self-reflection.
The song Aaina's lyrics also narrate a touching conversation between Young Galib and his mother. She expresses concern about him staying awake late into the night, to which he responds with a profound truth about the world's tendency to steal one's happiness. This exchange with his mother catalyzes his spiritual awakening, prompting him to pray and seek solace in God's grace.
YOUNG GALIB · AAINA SONG LYRICS
Maa Puchi Tu Sota Ni Rat Mein Kyun
Main Bola Maa Neend Ni Ati
Main Bola Ki Duniya Se Lagta Hai Darr
Ye Khusiyan Cheenna Chahti
Main Bola Me Gunahgar, Mere Pe Khuda Ka Karz Hai Kafi
Woh Boli Tu Dua Kar Rab Se
Duniya Aur Din Me Farq Hai Kafi
Tabhi Me Dua Karoon, Subah Me Jabhi Utha Karoon
Mila Hai Jeene Ko Ek Din Aur Toh
Jeete Jee Kisika Bhala Karoon
Hai Seekha Maine Jeene Ka Kuch Aisa Tarika
Cheen Toh Sakta Mere Yeh Hath Se
Cheene Ga Kaise Koi Mere Naseeb Ka
Aye Na Woh Gaya Dikha Ke
Mujhe Bata Ke Ki Hoon Main Kahan
Ki Toota Yeh Ghamand Mera
Aye Na Woh Gaya Dikha Ke
Mujhe Bata Ke Ki Hoon Main Kahan
Ki Toota Yeh Ghamand Mera
Toda Jab Maa Ka Dil
Toh Sath Me Toota Tha Ghamand Ye
Woh Roke Bhi De Rhi Thi Dua Toh
Akhen Meri Jhuki Yeh Saram Se
Dukhaya Bap Ka Dil Toh
Jane Se Darta Hoon Kabar Me
Main Mafi Ke Layak Ni Khuda Mujhe Sabar De
Nadani Me Kari Hai Galti Magar Galat Irada Nahi
Jo Kiya Hai Mene Woh Tumse
Bhi Ho Aisa Me Chahta Nahi
Milega Sab Tujhe Tu Khali Sabar Rakh
Milta Ni Waqt Se Pehle, Aur Milta Auqat Se Zyada Nai
Gusse Me Sar Pakadta, Me Khud Hi Se Ladta Rehta
Kaise Sambhalunga Ghar Akela Main
Kaise Utarunga Maa Ka Karza
Batein Yeh Ghumti Mere Zehen Mein
Sath Diya Do Badi Behen Ne
Zindagi Le Raha Tha Halke Me Kafi
Zindagi Jee Raha Tha Bus Vehem Mein
Muskile Thi Kafi Sari
Chalte Ja Reh Sil-Sile They
Jeher Jaisi Zindagi Thi Par Utar Gayi Gale Se
Raste Badal Rahe They
Itne Sal Jee Ke Bhi Alag Raha Tha Jaise
Iss Safar Me Hum Naye They
Aye Na Woh Gaya Dikha Ke
Mujhe Bata Ke Ki Hoon Main Kahan
Ki Toota Yeh Ghamand Mera
Aye Na Woh Gaya Dikha Ke
Mujhe Bata Ke Ki Hoon Main Kahan
Ki Toota Yeh Ghamand Mera
Woho Aye Na Ki Toda Yeh Ghamand Mera
Apne Andar Guroor Mat Rakhna
Ni Toh Gir Jaoge Jaise Me Gira Tha

What makes "Aaina" exceptional is its authenticity. Young Galib shares his vulnerability and growth with his audience, allowing them to connect with the song profoundly and emotionally. Pendo46's music perfectly complements the lyrics, enhancing the song's overall impact.
Aaina Hindi Music Video | Young Galib
Young Galib's decision to stay modest in life, as he advises his audience to do, reflects the wisdom he has gained from his experiences. This song serves as a reminder that we all have our moments of self-discovery and transformation, and it's essential to stay humble in life's challenges.
SONGS FOR YOU
GALIB — Young Galib
PAANI MAI — Emiway Bantai, Swaalina, Young Galib
Aaina Song Details
Track
Aaina
Backing Vocalist
Young Galib
Lyricist
Young Galib
Music Maker
Pendo46