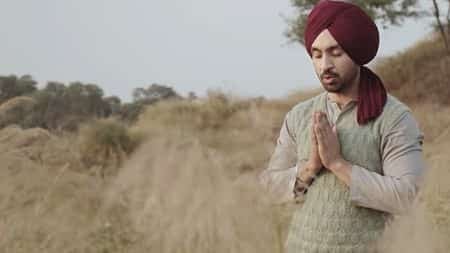 AAR NANAK PAAR NANAK LYRICS – It's a religious song with meaningful & praiseworthy verses all written by Harmanjeet. Diljit Dosanjh has performed as an actor in music video as well as lent his promising Punjabi vocals.
Manpreet Singh composes the ear-soothing anthem and Gurmoh is songster who gave musical direction to it. Baljit Singh Deo has directed music film of "Aar Nanak Paar Nanak" starring Diljit dosanjh with Jatinder Kaur, Viapak Kaur, Jarnail Singh & others. Meaning of the devotional anthem in English has been added.
AAR NANAK PAAR NANAK FULL LYRICS
Dharti dhan hoyi, dhan hoye ambar,
Sabhe dukh mukke, sache patshah ji,
Hath bann'de aan, matha tekde aa,
Tusi aan dhuke, sache patshah ji,
Hethan chaanan da dareya wagay,
Utton mehar da barse megh baba,
Jina thaawan te paaye pair tusi,
Othay ajj vi varte deg baaba.
Aar Nanak paar Nanak, sab thaan Ik Onkar Nanak.
Translation of Chorus: Nanak (The Lord) resides in ours and all other worlds beyond it. The supreme creator resides everywhere and in everything.
Tu noor da futtda chashma ae,
Tu roshniya di rekha ae,
Ek tera hi darbar sacha, baki sab bharm bhulekha ae.
Tera shabad suna bairaag howay,
Tann-mann de badlan veg baba.
Aar Naanak paar Naanak, sab thaan Ik Onkaar Naanak.
Tere roop jeha, koi roop nahi,
Teri deed jeha parsaad nahi.
Tere banke loyan dantar saala,
Sohnay nakjan lamre waala,
Kanchan kaaya soyene ki dhaala.
Tere roop jeha koi roop nahee,
Teri deed jehya parsad nahee,
Sarbat dha bhala sikhaya tu,
Koyi ghaat nahi, koi vaadh nahi.
Tu kendar bindhu brehmand da,
Tu sirji sari khed baba, jadon paya daswa jaama tu,
Hathan wich fad layi tegh baba.
Aar Nanak paar Nanak, sab thaan Ik Onkar Nanak.