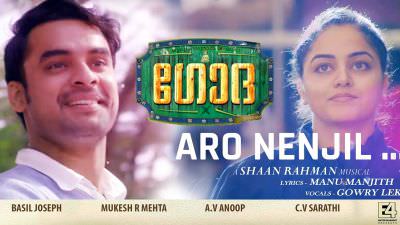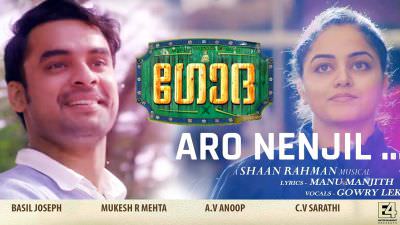 Aaro Nenjil Lyrics is romantic Malayalam song from Tovino Thomas & Wamiqa Gabbi starrer Godha Movie. The voice behind the soothing tune is Gowry Lekshmi and heart-touching music is created by Shaan Rahman.Basil Joseph is director and Lyrics of "AARO NENJIL" are hadn written by Manu Manjith.
NEW AARO NENJIL SONG WITH LYRICS | GODHA MOVIE
#aaro nenjil manjaayi peyyunna neram
Thane vinnil minnanorungunnu tharam
Oru thooval thennalumelle
Manamake vannozhiyumbol
Ariyathe kannnukalenthe
Thedi penmaniyaale,
Na na na na na saahina -x3.
Aaro_nenjil manjaayi peyunna neram
Thane vinil minnanorungunnu tharam.
Iniyullilulil neela ravilayi,
Naruvelli thinkal nalamaayidam,
Mazhathullichadum ponkinavile,
Oru pullikuyilin eeanamaayidam,
Aduthoru maayaacharithooki,
Thuduthoru pooville -x2,
Poloru naalukalaayiram novukal,
Neenthiya maanasamaokayoruminoru,
Maamayilaadana poovanilavakiya,
Aarude patile moharasanthwanamee.
@Aaro nenjil manjayi peyunna neram,
Thane vinnil minnanorungunnu thaaram,
Oru thooval thennalumelle,
Manamake vannozhiyumbol,
Ariyathe kannnukalenthe,
Thedi penmaniyale,
Na na na na na saahina -x6.