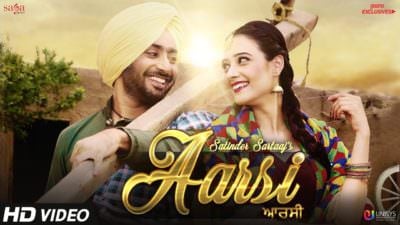 Aarsi (The Mirror) is a Punjabi song in immensely beautiful lyrics writing of Satinder Sartaaj. The artist has equally good crooned it. The track has a music video which is created by Sandeep Sharma, featuring Bhawna Sharma (Miss PTC Punjabi 2017).
Singer: Satinder Sartaaj
Album: Aarsi The Mirror
Music: Jatinder Shah
Lyrics: Satinder Sartaaj
Label: Saga Music
AARSI SONG LYRICS
Aarsi, aarsi, aarsi ni maayein bolda pyar naal -x2,
Bolda pyar naal faarsi ni
Maayein bolda pyaar naal -x2.
Ho jadon mundeya ve tera peya si shuwara -x2,
College ton tolli kahton aayi mundeya,
Sacho-sachi dasi ranjhana ve
Pehlan taan ni heer koyi banayi mundeya -x2.
Ho chitte kurte te phul dare'ayi da
Tainu ishq lagga bharjayi da
Ve sada sang chhod de..
Jee ve dhola, dhol jaani,
Sadi gali aayin na ve meharbani -x2.
Ho je mundeya ve tu hall ni jodna -x2,
Main vi ni dharni daal mundeya
Roti khaayin mirchan de,
Khaayin mirchan de naal mundeya
Roti khaayin mirchan de -x2.
Ho ranjha taan mera saiyo phullan da shonki -x2,
Phullan di sej vashaunda ni,
Palla doriye da maarke,
Doriye da maarke jagaunda ni -x2,
Palla doriye da maar ke.
Hun pai gaiyan takalaan ve -x2,
Wichon teri sukh mangdi
Kaddan utton-utton gaalan ve -x2.