Aasai, with the translation of its sensual lyrics, is a Tamil song by Bombay Jayashri, a famous Tamil singer who mesmerizes her listeners with her smooth voice. The lyrics, written by Maathevan, are erotic and expressive, as they reveal the intimate desires and fantasies of a woman in love with a man. The composer, Vivek–Mervin, creates a seductive melody that suits the singer's vocals and the song's mood.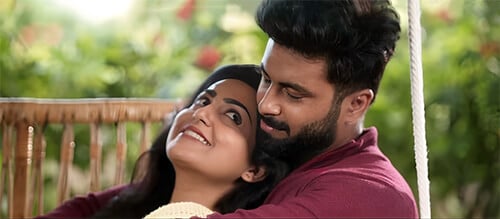 The video director, A. Hariharan, does a splendid job illustrating the song's essence with his romantic vision and camera angles. The starring actors, Ashwin Kumar Lakshmikantha, Teju Ashwini, and Avantika Mishra, play the roles of passionate lovers with sizzling chemistry and allure.
ENNA SOLLA POGIRAI TAMIL MOVIE · AASAI SONG LYRICS ENGLISH MEANING
Aasai Nooragi Poga
As my desires reach for the sky…
Aadai Noolagi Poga
My clothes turn into threads…
Kannae Kannadi Aga
My eyes become your mirror…
Theendal Un Savi Endru Thedi Poga
Your touch is the key which unlocks me…
Thoondil Un Vasam Endru Adi Poga
Your smell is the hook that catches me…
Oor Kangal Romba Thollai Endraga
I wish we could be all alone…
Katti Kondu Muththam Vaithu Ondraga Kadhalaga
Let's hug and kiss as we unite in love…
Yen Yen Yen Dhegam Mattum Pavam Ingu Rendaga Sol
Tell me why only our souls unite…
Aasai Nooragi Poga
As my desires reach for the sky…
Aadai Noolagi Poga
My clothes turn into threads…
Kannae Kannadi Aga
My eyes become your mirror…
Nam Porvaikullae Mei Veppamaga
I feel your warmth as we roll in together…
Nam Kalai Velai Men Muththamaga
Let our mornings start with a kiss…
Va Kadhal Seivom Poruthamaga
Let us make a fitting love story…
Neengamal Nirppom Viruppamaga
Let us stay together in happiness…
Eera Muththam Payum Saththam, Oori Pogum Bodhai Endru
Let me shower you with kisses…
Dhaga Pookkal Pookka Seiyum Latchamaga
And let those kisses help our love bloom…
Aasaiyodu Nee Padhitha, Ven Sivappu Machcham Ondru
The mark of passionate love that you leave on me…
Nalai Kalai Velai Yendhum Michamaga
Make me ask for more…
Ennalum Theera Kadhalaga
Our love will be everlasting…
Eppodhum Nee Nan Pakkamaga
With you always by my side…
Endrendrum Neenga Katchiyaga
Like a wonderful dream…
Ellorum Ketkkum Peranbin Satchiyaga Endraga
We'll live a life of compassion that everyone longs for…
Kattikondu Muththam Vaithu Ondraga Kadhalaga
Lets hug and kiss as we unite in love…
Yen Yen Yen Dhegam Mattum Pavam Ingu Rendaga Sol
Tell me why only our souls united…

Enna Solla Pogirai Film's Aasai Music Video | Avantika Mishra | Teju Ashwini | Ashwin Kumar Lakshmikantha
The song is a part of the movie Enna Solla Pogirai, a romantic comedy that follows the adventures of a young man who falls in love with a girl who is out of his league. The movie features Bombay Jayashri and other talented actors who make the audience laugh and enjoy their comic timing and expressions. The movie is a must-watch for anyone who loves a light-hearted and entertaining story with a dose of romance and music.