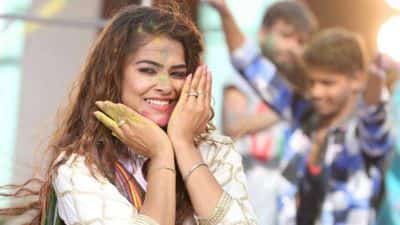 Adawan Lyrics in adorable voice of Rupali singer is a remarkable Punjabi song with music created by Nik D Gill. Ekraaj Khanuwan wrote down the lyric of song "ADAWAN, ADAVAN" and name of the video director is Parmod Sharma Rana.
ADAWAN PUNJABI SONG LYRICS – RUPALI
Jaan bujh soneya satayi da
Ve aape russida ve aape mann jayida
Husan te sajda garoor sohneya
Vey ainvaye gussa na tu kareya kar,
Nakhre adawan sab tere karke
Ve channa thode je taan jareya kar -x2.
Tere utte maan pura kare mutiyar
Tere sir te taan fooki de ne kalje -x2,
Aape ta chadaya sire nakhre nu tuhi
Ainvaye ni ki gal koi taal je.
Hunde ne shareekna de rang vekhne ve
Hoke naal naal khadeya kar.
Nakhre adavan sab tere karke
Ve channa thode je ta jareya kar -x2.
Haq nal kari diyan zid'an patt  honeya
Ve haq na pugayi diyan adiyan -x2,
Aini vi haseen koi labbni ni tainu
Unjh kudiyan te jag te ne badiyan.
Deva jado sohenya daraave jaan de
Ve door jaan ton ta dareya kar.
Nakhrey adawan sab tere karke
Vey channa thode je taan jareya kar -x2.
Kanuwan waleya ve ladeya vi kar
Par kareya vi kar gallan pyarian -x2,
Sone jehe mukhde ton tere Ekraaj
Vaaran khushiyan main sari diyan sariyan
Lazmi ni hundi har gal aakhni
Vey kujh naina cho vi padeya kar.
Nakhre adavaan sab tere karke
Ve chana thode je taan jarya kar -x3.