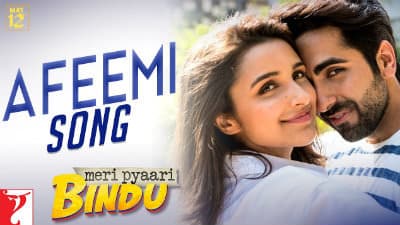 Song: Afeemi
Singers: Jigar Saraiya & Sanah Moidutty
Music: Sachin-Jigar
Lyrics: Kausar Munir
Afeemi Lyrics from Ayushmann & Parineeti's latest Meri Pyaari Bindu movie is another likeable Hindi song. Sanah Moidutty and Jigar Saraiya are the playback duo vocalists. Sachin-Jigar composed music of this song while the lyrics of afeemi tune are penned down from the hands of legendary songwriter Kausar Munir.
The meaning of song title / word "Afeemi" is Nasheela, नशीला, dope or intoxicating. The translation of chorus of song is, "Our love seems like a intoxicant or a dope, the way it is growing in both of us."
MERI PYARI BINDU FILM's AFEEMI SONG LYRICS TRANSLATION

Dhaani si dhaani si
Sharbati paani si
Dheere dheere se
Teri chahat chadhti hai.
Of a light green color,
Like some sherbet-like water,
Slowly,
Your love intoxicates.
Thodi nadaani si
Thodi shaitani si
Dheeme-dheeme aadat badhti hai.
A little like naivety,
A little like mischief,
Stealthily,
Your habit catches me up.
Tu hai toh mere rubaru
Par kya karoon
Yakeen hi nahin aata.
Shaam se subha karoon
Dekha karoon
Raha bhi nahi jaata.
you are there in front of me,
but what do I do,
I can't believe.
Evenings change into mornings,
I keep looking at you,
I can't even stop.
Afeemi, afeemi, afeemi hai ye pyar
Afeemi hai tera mera pyar -x2.
Khumari khumari na aaye re karaar
Afeeemi hai tera mera pyaar.
This love is like opium,
This love of yours and mine is like opium
There is just intoxication and no peace,
This love of ours is like opium.
Thodi pighalti hoon
Thodi phisalti hoon
Gash kha ke teri
Baahon mein girti hoon.
I melt a little,
I slip a little,
I lose my consciousness
And fall into your arms only.
Thodi sarakti hai
Thodi khisakti hai
Neeyat bigad ke ye tujhse hi sambhle.
It moves a little,
It goes away a little,
When my intention goes bad,
Only you can control it.
Tere mere faasle
Bas aaj se
Saanson hi saanson mein gumne lage,
Tere mere raaste
Bas aaj se ho..
Aankhon hi aankhon mein milne lage,
Our distances
From today,
Have started getting lost within breaths only.
Our paths
From today,
Have started merging within eyes only.
Afeemi, afeemi, afeemi hai ye pyaar
Afeemi hai tera mera pyaar,
Khumari, khumari na aaye re karaar
Afeemi hai tera mera pyar.