Aisa Kyun Maa Lyrics from Sonam Kapoor's film 'Neerja' by Sunidhi Chauhan with translation in English.Get the meaning of 'Ungli Pakad Ke Chalna Sikhaya Lyrics' AKA 'Aanchal Se Mera Muh Poch Dena Song' penned by the songwriter Prasoon Joshi. It's one of the evergreen Hindi songs that can be dedicated to your mother on Mother's Day.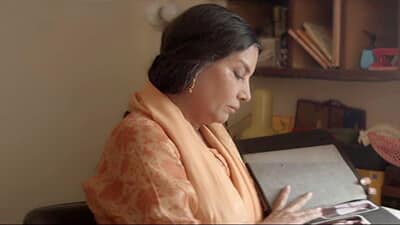 | | |
| --- | --- |
| Song Name: | Aisa Kyun Maa (Hindi) |
| Album/Movie: | Neerja (2016) |
| Singer(s): | Sunidhi Chauhan |
| Lyrics Writer(s): | Prasoon Joshi |
| Music Director(s): | Vishal Khurana |
| Music Video Features: | Sonam Kapoor |
UNGLI PAKAD KE CHALNA SIKHAYA LYRICS ENGLISH MEANING | AISA KYUN MAA
Ka Kha Ga Gha Da Ch Chh Ja Jha
Ta Tha Da Dha Da Te Tha Da Dha Na
Pa Pha Ba Bha Mai Ya Ra La Va
Laado!
Baby Girl!
Ungli Pakad Ke Phir Se Sikha De Godi Uthale Na Maa,
Teach me to walk again, lift me in your arms, mom!
Aanchal Se Mera Moohn Ponch Dena Maila Sa Laage Jahan,
Wipe my face with your dupatta, wherever you spot some dirt.
Aankhein Dikhaye Mujhe Jab Zindagi
When life stares at me with anger,
Yaad Mujhe Aati Hai Tere Gusse Ki
It reminds me of your anger.
Daata Bhi Toh Tune Mujhe Phoolon Ki Tarah
You scolded me but very gently.
Kyun Nahi Maa Saari Duniya Teri Tarah
Why isn't the whole world like you, mom?
Maatha Garam Hai Subah Se Mera Rakh De Hatheli Na Maa
I've had a fever since morning, could you please, put your hand on my forehead, Mother?
Tune Kuch Khaaya Der Se Kyun Aayi Koi Na Poochhe Yahan
Have you eaten yet? Why are you late at home? No one here asks me all these questions, Mother.
Heera Kaha Kabhi Nagina Kaha Mujhe Kyun Aise Paala Tha Maa
Often you called me 'Shiner' and 'diamond.' Why did you raise me with so much affection and so much care, Mother?
Teri Nazar Se Mujhe Dekhe Na Jahan
The world doesn't see me from the same perspective as yours.
Duniya Ko Toh Daantegi Na Daantegi Na Maa
You're going to scold the people, right, O' mother!
Mujhko Shiqayat Karni Hai Sabki Mujhko Sataate Hain Maa
I want to complain about everybody, they trouble me, mom.
Ab Tu Chhupa Le Paas Bula Le Mann Hai Akela Yahan
Call me and hide me somewhere. I feel lonely.
Laado!
Deary!
AISA KYUN MAA | NEERJA FT. SONAM KAPOOR
MORE SONGS FOR MOTHERS DAY IN HINDI