Ala Vaikunthapurramuloo Title Song Lyrics from Allu Arjun's much-awaited Telugu movie 'Ala Vaikunthapurramuloo' has been hummed by Sri Krishna with Priya Sisters. Kalyan Chakravarthy inks down the Telugu lyrics as Thaman S has produced the energetic music for this track. Below you may read Ala Vaikunthapurramuloo Title Track Lyrics.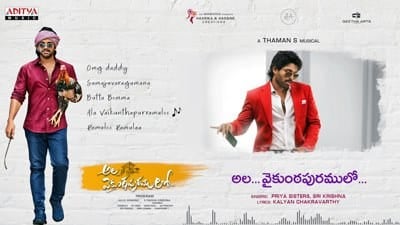 | | |
| --- | --- |
| Song Name: | Ala Vaikunthapurramuloo (Telugu) |
| Album: | Ala Vaikunthapurramuloo (2020) |
| Singer(s): | Sri Krishna, Priya Sisters |
| Lyrics Writer(s): | Kalyan Chakravarthy |
| Music Director(s): | Thaman S. |
| Video Director(s): | Trivikram |
| Actor(s): | Allu Arjun, Pooja Hegde, Tabu, Jayaram, Sushanth, Navdeep, Nivetha Pethuraj |
| Record Label: | © 2020 Aditya Music |
ALLU ARJUN | ALA VAIKUNTHAPURRAMULOO TITLE TRACK LYRICS
Ala Vaikunthapurambulo,
Nagarilo Na Moola Saudambudapada,
Mandara Vanantharamrutha,
Sara Pranthethukanthothpalopala,
Paryantha Ramaveenoriyagunapanna,
Prasannudu Vihwalanagendramu,
Pahi Pahi Ala Uyyalinchi, Samrambiyai.
[Instrumental Music]
Ala Vaikunthapurramulo,
Adugu Mosindi Pasame,
Vilapalunna Vididhike,
Kalapam Kadhili Vachene,
[Instrumental Music Continues]
Ala Vaikunthapurramuloo,
Bantuga Chere Bandhame,
Alai Pongeti Kalalo,
Kulasa Thisukochene,
Godugu Pattindi Gaganame,
Kadhili Vasthunte Meghame,
Dhishti Theesindi Deevenai,
Ghana Khooshmandamey,
Bhujamu Marchindi Bhuvanamey,
Baruvu Moyanga Bhandhamey,
Swagathinchindi Chitramayi,
Ravi Sindhooramey,
Vaikunthapuramulo,
La La-La Laala! (x4).
(Laala-Laa-Laala!)
[Instrumental Break]
Vaikunthapuramulo, Pamula Nagarilo,
Vaikunthapuramulo, Saudhambhudapala,
Vaikunthapuramulo, Tharangam Cherele,
Vaikunthapuramulo,Thandavame Sageney, Hey!

Ala Vaikunthapurramuloo is a lively Telugu song and has just been released by Aditya Music (YouTube) as a film's title track, being part of the album jukebox. Like all other songs from this film, this track also has music direction from most loved music director Thaman S. The music video for 'Ala Vaikunthapurramuloo Title Song' stars Allu Arjun with Pooja Hegde & Nivetha Pethuraj having video direction from director Trivikram. Kalyan Chakravarthy is the skilled songwriter who came up with the dynamic lyrics for this specific track.