Alai Alaiyaaga from the Tamil series 'Navarasa' featuring Suriya, Prayaga Martin is a nice song, and it has divine vocal music by Karthik. The adorable lyrics of the rhyme are provided by Karky. Karthik is the songsmith of ALAI ALAIYAAGA's first-class music. The snazzy music video of the poesy is instructed by Gautham Vasudev Menon.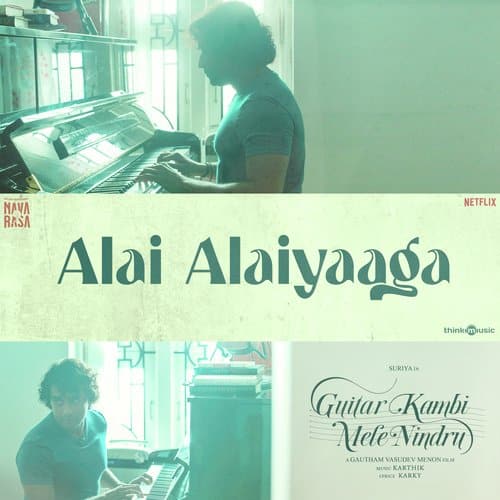 | | |
| --- | --- |
| Song: | Alai Alaiyaaga |
| Album: | Navarasa |
| Singer(s): | Karthik |
| Songwriter(s): | Karky |
| Composer(s): | Karthik |
| Director: | Gautham Vasudev Menon |
| Actor(s): | Suriya, Prayaga Martin |
| Language: | Tamil language |
NAVARASA • ALAI ALAIYAAGA FULL SONG LYRICS
Alay Alaiyaga Alay Alaiyaga
Enakkulle Paigirai
Ovoru Modhalum Ovoru Kadhalai
Thuli Thuliyaga Thuli Thuliyaga
Idhayathil Veezhgirai
Ovuru Thooralum Ovuri Kadhalai
Parkadalum Panithuliyil
Adangidum Engirai
Aruvigalai Iruvizhiyil Adakkida Solgirai
Kangal Moodinen Kanneer Agirai
Ovoru Thooralum Ovoru Kadhalai

Navarasa's Alai Alaiyaaga Music Video | Ft. Suriya, Prayaga Martin
Let's stream popular music video for Alai Alaiyaaga from a snazzy Navarasa.
Make sure to check Alai Alaiyaaga Song Lyrics that Karthik divinely vocalized and are featured in the Navarasa of Suriya, Prayaga Martin . The lyrics writer scripted the Alai Alaiyaaga Tamil lyrics and Gautham Vasudev Menon ledthe music video.