Amma Lyrics with translation in English language from the Telugu movie 'Oke Oka Jeevitham' featuring Sharwanand is a comely song, and it has as pretty as a picture vowels by Sid Sriram. The neat lyrics of the Amma track are drafted by Sirivennela Seetharama Sastry. Jakes Bejoy, Antony George is the music writer of AMMA's voluptuous music. The wonder music video of the canto is addressed by Shree Karthick.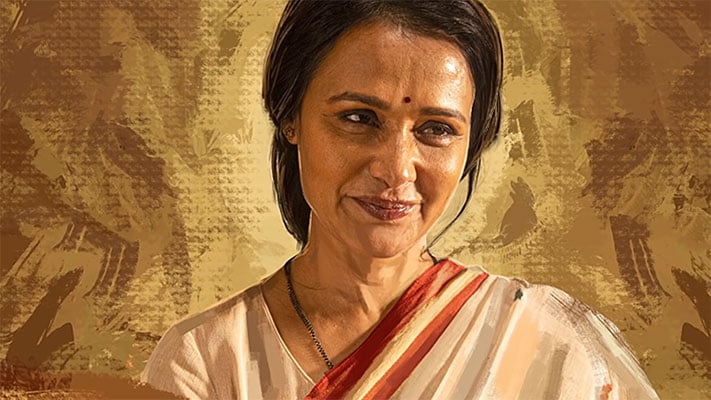 OKE OKA JEEVITHAM TELUGU MOVIE · AMMA FULL SONG LYRICS ENGLISH MEANING
Amma Vinamma Nenanati Nee Lali Padane,
Mother, listen to me, I am the words of your old lullaby.
Avunamma Nenenamma
Yes, mother, I am that form only.
Nuvu Yennado Kanipenchina Swaranne,
You are the visible voice of music.
Mounamai Innallu Nidaralone Unna,
This many years I had been silent in my sleep.
Ganamai Eenade Melukunna
Through music, today I woke up.
Nee Padalaku Muvalla Na Adugulu Sagalamma,
Like an anklet to your feet, my footsteps should follow you.
Nee Pedavula Chiru Navulla Na Oopiri Velagalamma
Like the smile on your lips, I don't want to grow old if I consider moving away from you.
Nirantharam Nee Chanti Papalle, Undali Ne Nennallaki
Forever like your small baby, I should be for a lifetime.
Ninnodilenthaga Yedagalanukone
I want to grow from your love; of your lap of old days.
Amma Anuvanuvanuvu Nee Koluve Amma,
Mother In everything I do, I am praying you.
Yedasadilo Sruthilayalu Nuve Amma
Mother Aadhi, you're a very good singer.
Ne Koliche Saradave, Nanu Nithyam Nadipe Saradhive,
–
Beduru Povalante Nuvu Kanipinchali
To lose fear, you have to appear
Nidara Ravalante Kathalu Vinipinchali
To get my sleep, you have to tell me stories
Akalayidante Nuve Thinipinchali
When I am hungry, You should only feed me
Prathimethuku Na Bratukanipinchela
Like My life is there In every single grain
Nuvuntene Nenu Nuvante Nenu
If you are there only. I exist, I am a part of your form.
Anuko Lekapothe Yemaipothanu
What will happen to me If I don't think of you
Nee Kada Choope Nannu Kasthu Undaka
Your watchful eyes always protect me
Thadabadi Padipona Cheppamma
Won't I stumble and fall down, tell mother.
Mari Mari Nanu Nuvu Muripenga
Your compassion toward me
Choosthu Unte Chalamma
And love is more than enough
Pari Pari Vidhamula Geelupuluga
I will always win in different ways
Paikeduguthu Untanamma,
I will grow successful
Aina Sare Yenatitee Untanu Nee Papayinai
Still I'll always remain as your baby
Ninnodilenthaga Yedagalamukone,
I don't want to grow up missing you
(Classic Music Notes)
–
Nirantharam Nee Chanti Papalle, Undali Ne Nennallaki
I want to remain your baby always, forever I want to remain.
Ninnodilenthaga Yedagalanukone
Amma Anuvanuvanuvoo Nee Koluve
Mother, In everything I do I am praying you
Amma Yedasadilo Sruthilayalu Nuve
Mother, You are the rhythm in my heart too
Amma Nee Koliche Saradave
Mother, You are the goddess Saraswathi I worship
Nanu Nithyam Nadipe Saradhive.
You are the Goddess Saraswati Guiding me every day, Mother…

Oke Oka Jeevitham Film's Amma Music Video | Sharwanand
Play the original music video for Amma from a wonder movie Oke Oka Jeevitham.
Let's play Amma Song Lyrics that Sid Sriram charmingly sung and are featured in the Oke Oka Jeevitham film of Sharwanand . Sirivennela Seetharama Sastry has drafted down the Amma Telugu lyrics and Shree Karthick instructedthe music video.