Anbenum is a beautiful song that celebrates the eternal bond of love between two souls. The lyrics, written by Vishnu Edavan, are poetic and heartfelt, expressing the devotion and commitment of the lovers. Anirudh Ravichander is the song's composer, and Lothika also contributes her voice. The singers deliver a soulful performance, conveying the emotions and passion of the song. The music is soothing and melodic, blending acoustic guitar and flute.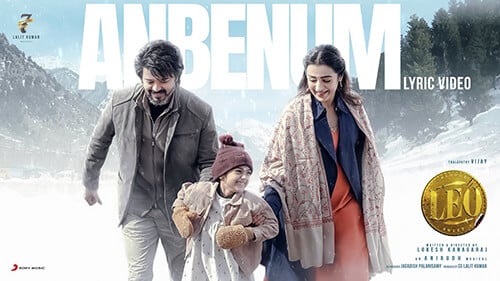 The song features Vijay and Trisha as the lead actors, who play the roles of Leo and Nila, respectively. Their love story is the focus of Lokesh Kanagaraj's romantic thriller. The song showcases their chemistry and romance as they face various challenges and dangers. The music video is well-shot and edited, capturing the scenic locations and the actors' expressions.
Anbenum is a song that will touch your heart and make you fall in love with the characters and the movie. It is one of the best songs by Leo and one of the finest works by Anirudh Ravichander. If you are looking for a song that will inspire you to love with all your heart, Anbenum is the one for you.
LEO MOVIE | ANBENUM SONG LYRICS ENGLISH MEANING
Uyir Padhi Unake Oo Ho
Half my soul is yours for infinity!
Unil Padhi Enakke Oo Ho
Half of yours is mine for eternity!
Anbenum Ayudham Dhane, Oru Veeran Nenjame
Only love as weapon is the counterpart in a brave warrior's heart.
Narai Vandhum Enake Oo Ho
Though my hair has streaks of silver grey…
Thunai Neeye Aruge Oo Ho
You are the love of my life all the way.
Anbenum Ayudham Dhane, Oru Veeran Nenjame
Only love as a weapon is the counterpart in the heart of a brave warrior.
Puyal Katril Pani Sernthal, Uyir Theeye Unaikaka
If pure dew unites with a storm volatile… Love's warmth will protect all the while.
Anbenum Ayudham Nane, Endrendrum Veerane
Only love as a weapon…
Enakana Mugame Oo Ho, Dhinam Parka Varame Oo Ho
Every day, come see my face.
Anbenum Ayudham Dhane Undhan Nenjame
Only love as a weapon, my dear!
Surukangal Nerungum Oo Ho, Nee Vendum Udane Oo Ho
Wrinkles as we grow old together… I want you with me forever and ever.
Anbenum Ayudham Dhane Undhan Nenjame
Only love as a weapon, my dear!
Viralodu Viral Korthu Marbodu Anaipaye
You will hug me; with your chest as my divine head rest.
Anbenum (Anbenum) Ayudham Neeye, Endrendrum Veerane
Weapon of love is your to favor! Always the brave warrior forever and ever.
ANBENUM FULL SONG
The English translation of the Anbenum lyrics is a valuable resource for anyone who loves this song and wants to understand it better. The translation will help you appreciate the beauty and depth of the Tamil language as well as the cultural and emotional nuances of the song. You can also compare the original lyrics with the translation and learn some new words and phrases in Tamil.
ANBENUM MUSIC VIDEO