Anisuthide Lyrics by Sanjith Hegde & Shreya Ghoshal from 99, a Kannada movie with its translation in English.Ganesh and Bhavana starring Anisuthide song lyrics & meaning.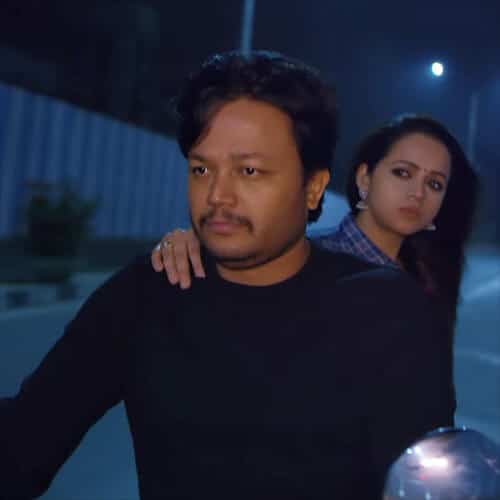 | | |
| --- | --- |
| Song Name: | Anisuthide (Kannada) |
| Album/Movie: | 99 (2019) |
| Singer(s): | Sanjith Hegde, Shreya Ghoshal |
| Lyrics Writer(s): | Kaviraj |
| Music Director(s): | Arjun Janya |
| Music Video Director: | Preetham Gubbi |
| Music Video Features: | Ganesh, Bhavana |
99 – ANISUTHIDE SONG LYRICS ENGLISH MEANING
Modhala Sala Badukiruve Anisuthidhe
Maggulale Maranavidhe Anisuthidhe
Feels like I am alive for the first time.
Feels like death is next to me.
Irulinalu Neralu Saha Bevaruthidhe
Kanasugala Kalebarahavu Kannallidhe
Even the shadow is sweating in the night.
The corpse of dreams is in my eyes.
Nee Sigadhiralenu Nanaghe
Neeniruva Jagadholaghe
Naniruve Enuvudhe Kushi Koneghe
So what If I don't get you?
I am happy that I am in the same world where you live.
Koruva Munna Ninaghe Vidhaya
Koruve Ondhu Sanna Sahaya
Neeniradhe Badhukiralu Helu Upaya
Konevaraghu Nenapiduve Ee Rathriya
Goodbye to you Before asking.
I ask you for a small favour.
Give me an idea to live without you.
I'll remember this night till the end.
Ee Erulighe Eno Hesaru Santhasada Garbhadali
Sankatava Heruthidhe Prathi Usiru
What is the name of this night?
Every breath is bearing the agony in the womb of happiness.
Edheyali Entha Arada Gaya Khedakida Hage Matthe Vidaya
Keluvudhu Nav Eega Yarali Nyaya
Konevaraghu Nenapiduve Ee Rathriya
The burden in the heart is like scratching the wound.
In whom shall we seek justice?
I'll remember this night till the end.