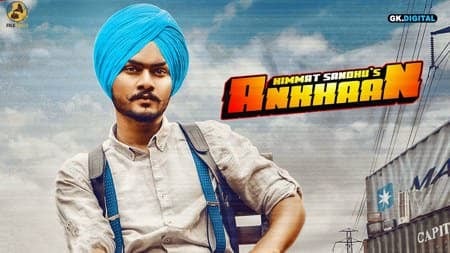 ANKHAAN LYRICS – It's a Bhangra song from the songbook of lyricist Gill Raunta with cheerful music production of Desi Crew, the Punjabi singer "Himmat Sandhu" releases his new song "Ankhaan" which is also released by Folk Rakaat like his previous songs. B2Gether Pros is the team behind creation of Punjabi music video, released on Oct 22, 2018.
ANKHAAN FULL SONG & LYRICS
Ho paida allrhan ch hal-chal ho jawe,
Ho jadon gabru jattan de putt fabde,
Ho sau bandeyan ch hundi sadi ginti
Bauta chakmi mandeer ton ni dabbde,
Awa-tawa ni jubaano jatt bolde,
Sade bolde maidana wich vaar haan'ne,
Ni sada ankhaan,
An'khaan pugauna karobar haanane, ni sada an'khaan -x2.
[Song chorus meaning / translation:To create (or have) pride and confidence in others for us is our business.]
Oh jede modeyan ton thukde si kaddiyan ne radkan,
Jamandru daleri eh fokiyan na badkaan -x2,
Ho jithay khad jaiye jaake raula muk je -x2,
Judge' an jahe sade kirdar haan'ne, ni sada an'khaan..
An'khan pugauna kaarobar haan'ane, ni saada an'khan -x2.
Haini koi rakaad jeda mooray saday arh jay,
Jammeya ni vaillee jeda sir saade chad jay -x2,
Ho asi kareya ni role kade dogla,
Ho karde aan gal aar-paar haan'ne, ni sadda an-khan.
An-khan pugauna qarobar haan-ne ni sadda an-khan -x2.
Mehnat aa kiti taiyon naam hun bolde,
Jane-khane naal bhet dil de ni kholde -x2,
Oh jede yariyan ch jind jaan vaarde,
Gill raune honi pakke sade yaar haan'ne, ni sada ankhaan,
An'khaan pugaona karobar haan'ne, ni sada an'khaan -x2.