"Anthem" Punjabi, with enjoyable lyrics, is a catchy and upbeat song that celebrates the lavish lifestyle and the pride of living in Yuba City. The singers, Jagan Randhawa and Jassi Gosal deliver a powerful performance with their energetic vocals and catchy hooks. The lyrics, written by Jasdip Singh and Jagandeep Singh, are witty and catchy and reflect the confidence and swagger of the singers. The composer, JG & JR, creates a groovy and infectious beat that makes you want to dance along.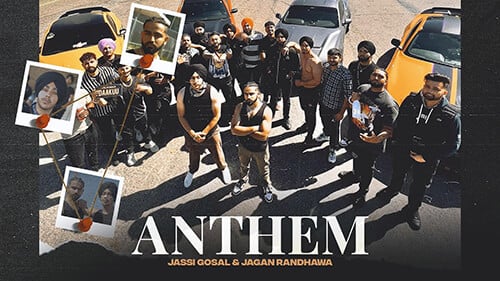 Anthem is a perfect single track that you will want to play on repeat and sing along with your friends. It is a must-listen for anyone who loves Punjabi music and culture. It is a Punjabi rap song that will make you feel good and motivated to live your best life.
JASSI GOSAL · JAGAN RANDHAWA · ANTHEM SONG LYRICS
Shami Car Show-An Te, Huh!
Oh Shami Car Show-An Te Shadaunde Dhuan Tyre Ni
Galiyan Ch Phirde Karaunde Munde Kehar Ni
Oh Shami Car Show-An Te Shadaunde Dhuan Tyre Ni
Haan! Galiyan Ch Phirde Karaunde Munde Kehar Ni
Oh Region Tan Pannu Rakhda Aa Puri Peak Te
Haan Donut Kadaunda Vekh Sandhu Baitha Wheel Te
Real Vi Life Jehdi Dise Wich Reel Ni
Oh Karida Aa Naaran Deyan Dilan Nu Steal Ni
Randhawa Kudey Rakhda Aa Jahaj Take-Off Te
Te Chandra Jeya Cheema Sadaa Rehnda Wich Feel Ni
Kayi Aa Sau Kayi Aa Majhe Aale Bhau
Kayi Aa Soniye Doabe Ton Kayi Aa Malwe De Jau
Oh Hundal Te Baghri Naal Rishta Jeyon Khoon Da
Ni Bilo Paunda Chandra Bhulekhe Kudey Moon Da
Ni Gharan Ton Na Ghaat Pair Chhad'de Na Bet
Shami Sandar Bhajde Al Hundi Vibe Check
Ni Karna Sting Te Pawaunda Pure Raat Ni
Te Shelby Ch Baghri Di Puri Galbaat Ni
Oh Sukha Hell Cat Cho Vikhaunda Gang Sign Ni
Te Sandhu Di Scat Cho Majhail Janda Kehan Ni
Oh Fikar Tan Yaaran Wich Baith Khulle Rehan Ni
Eh Fan Shah Kale De Te Tera Rang Tan Ni
Karda Challenge Sidha Lohe Nu Goraya
Sau Sau Kilo Launda Bhar Kade Halka Ni Laya
Sire Laya Kam Kudey Jinu Hath Paya
Jeda Marda Si Shalaan Ohda Mor Vi Banaya
Jadon Kaddi Di Aa Fabb Kudey Jaan Da Aa Rabb
Feel Hundi Aa Alag Jiwein Jit Leya Jag
Shalaan Marda Aa Jag Adhi Raati Painde Jabb
Jadon Banda Hunda Sab Diggy Khol Bande Pub
Fer Yuba Yuba, Ho!
Fer City City, Ho!
Fer Yuba City Sari Adhi Raati Jatt Gaunde
Ni Yaar Kathe Kudey Vibe Jayi Banaunde
Ni Yaaran De Pyaran Nu Na Fer Phone Launde
Ni Saun Dinde Lokaan Nu Na Aap Saale Saunde
Rehnde California Patt Utte Morni Aa
Keel Laugi Dil Sada Aiddi Sadi Tor Ni Aa
Je Tu Hale Sure Ni Aa Main Vi Baby Bore Ni Aa
Khul Jauga Kise Naal Vi Dil Koi Door Ni Aa
Naal Jeda Chobar Mangaunda Tool Italy Ton
Patt Lau Bhulekhe Tera Lakk Wali Titli Ton
Tu Jave Sidhi Matheyan Nu Mag Wichon Nikli
Jo Sir Ni Jhukaunde Jine Saana Yaari Jit Layi
Jo Sadi Hawa Wich Na Rakane Khande Meal Ni
Engine Karida Reejh Naal Laake Tel Ni
Aa Tere Ah Jimmy-Johny Yaaran Agge Fail Ni
Oh Sade Naal Vair Kudey Bacheyan Da Khel Ni
Steal Body Jussa Jeda Naaran Di Aa Jaan
Pair Dhare Je Ground-Ey Dooron Disda Jawaan
Game Wich Jinu Kehnde Aa Khan Bhalwan
Ni Eh Jihde Utte Vare Sidhe Khichda Paraan
Thapi Maarke Daraunda Jatt Jiwein Jaafi Saahn
Kehnde Vekhna Aa Jine Aajo Utro Madaan
Ni Eh Jinu Hath Pa Laye Piche Chhad Da Nishan
Aja Game Kudey Dekhla Na Ho Hairaan
Sadi Yariyan De Lekhe Yaran Wich Vasse Jaan
Je Jeena Je Aar Kudey Firde Teyar Pure
Jaan Dena Tenu Na Tu Sanu Hath Maar Kudey
Naal Jedi Daar Kudey Adhi Aa Faraar Kudey
Jaan Di Tan Honi Vekhi Honi Meri Car Kudey

Anthem Punjabi Music Video | Jagan Randhawa | Jassi Gosal
The video director, Dilsgrewl, showcases the stunning visuals of Yuba City and the cool vibes of the singers and their friends. The starring actors, Jassi Gosal and Jagan Randhawa look stylish and charismatic in the video.
Anthem Song Details
Title of Song
Anthem
Songster
Jassi Gosal, Jagan Randhawa
Lyrics
Jasdip Singh, Jagandeep Singh
Instrumentalist
JG & JR