Arere Aakasham Song Lyrics from Telugu movie 'Colour Photo' by Anurag Kulkarni & Kaala Bhairava is an enjoyable Telugu song. The lyrical music video for the track featuring Suhas & Chandini Chowdary is out now. Kittu Vissapragada is the songwriter who has penned the likeable lyrics for Arere Aakasham track.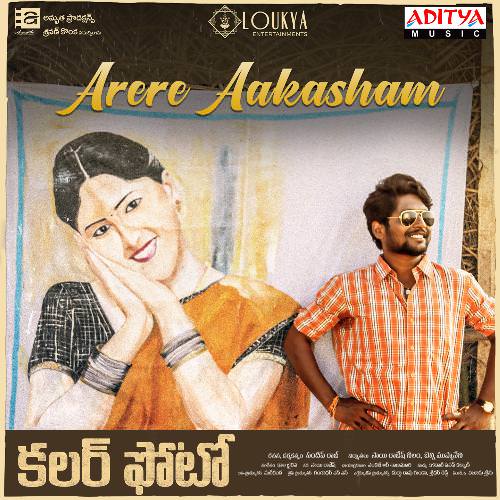 | | |
| --- | --- |
| Song Name: | Arere Aakasham (Telugu) |
| Album/Movie: | Colour Photo (2020) |
| Singer(s): | Anurag Kulkarni, Kaala Bhairava |
| Lyrics Writer(s): | Kittu Vissapragada |
| Music Director(s): | Kaala Bhairava |
| Director: | Sandeep Raj |
| Video Features: | Suhas, Chandini Chowdary |
COLOUR PHOTO TELUGU FILM | ARERE AAKASHAM SONG LYRICS
Arere Aksam Lona Ille Kaduthunnava
Sooridu Kuda Padaleni Sota
Rangesinadu Thala Dasukunta
Thana Roopu Thane, Thega Soosukunta
Ma Kitti Gadu Paddadu Thanta
Arere Aksam Lona Ille Kaduthunnana
Ho! Sitralahari Patantha Thanu
Radio Lo Golanta Nenu
Bomma Kadhilela, Gonthu Kalisena
Tour-ingu Talkies-u Thera Nuvvani
Nenemo Cut Ayina Ticket-u Ni
Mana Janta Hit Ayina Cinema Ani
Abhimanule Vachi Sootharani
Pagalu Reyantu Ledhu Kalale Kantu Unna
Thanatho Nunchunte Chalu Color-u Photo Lona.

Arere Aakasham Music Video
Aditya Music is the YouTube channel published the second track from Color Photo movie and the latest single is dubbed as 'Arere Aakasham.' The specific song was released on Sep 21, 2020. Kaala Bhairava is also the music director for the song shared above. Enjoy the lyrical music video.
Also check Tharagathi Gadhi Song from the same film, sung by Kaala Bhairava.