AREREY MANASA LYRICS from FALAKNUMA DAS film – The latest Telugu song of Sid Sriram features Vishwak & Saloni from their film 'Falaknuma Das'. Vivek Sagar has arranged has composed music for the track 'Arerey Manasa' with its Telugu lyrics well-written by songwriter Kittu Vissapragada.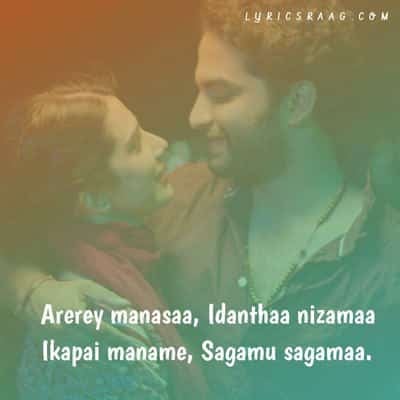 Name of Song: Arerey Manasa (Telugu)
Singer: Sid Sriram
Movie / Album Name: Falaknuma Das (2019)
Lyricist: Kittu Vissapragada
Music Director: Vivek Sagar
Actors: Vishwak Sen, Saloni Misra
Label: Sony Music South
AREREY MANASA TELUGU SONG LYRICS
Emannavo Edatho Thelusaa,
Premanukonaa Manasaa,
Choodakamundhe Venake Nadiche
Thodokatundi Kalisa,
Theliyade Adagadam,
Yedurai Nuvve Dorakatam,
Maayano Emito Emo,
Arerey Manasaa,
Idanthaa Nizamaa,
Ikapai Manaame,
Sagamu Sagamaa.
Emannavø Edatho Thelusa,
Premanukona Manasa.
Naa Brathukuna Yerojø,
Ye Parichayamauthunna,
Nenadiginade Ledhe,
Kadhanukoni Pothunna.
Innalluga Naa Venakunnadhi
Nuvvenani Theliyadhule
Noørellaku Ammaga Maarina, Thode Nuvve.
Oh, Oorantha Maharajaina
Nee Ollø Padipoyaakaa
Daasudanai Poyaane
Arerey Manasaa, Idanthaa Nizamaa
Ikapai Maname, Sagamu Sagamaa.
Instrumental Break!
Nenadigina Raagaalu,
Nee Pranayapu Mounaalu,
Nee Kurula Samiralu,
Ne Vethikina Thiraalu,
Innaalluga Naa Hrudayaniki,
Edurainadi Sunyamu Le,
Tholisariga Nee Mukhamannadi,
Naa Vekuvaley,
O, Praanaale Ara Chethullø,
Pettisthu Naa Oopiritho,
Santhakamey Chesthunna..
Arerey Manasaa
Idanthaa Nizamaa
Ikapai Maname
Sagamu Sagamaa.
Above is music video for 'Arerey Manasa Lyrics' from the Telugu motion picture 'Falaknuma Das.'