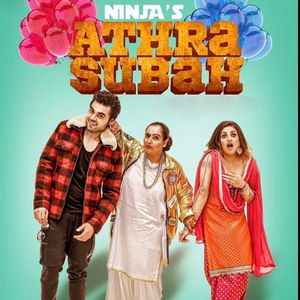 Athra Subah Lyrics: Ninja is a powerful Punjabi vocalist and he is all set to release his new track "Athra Subah jatt da aka Athra Subha" with its lyrics concocted by Bablu Sodhi. Gold Boy is music director of song who previously produced music for Ninja's number of remarkable songs. Gurdas Media Works is name of music film directing team and Himanshi Khurana with Ninja stars video of athra subah song. The appealing tune is releasing under the popular music banner of Speed Records, which have always been bringing good music to Punjabi songs listeners worldwide.
READ LYRICS OF ATHRA SUBAH SONG BY NINJA
Sare area de vich
Poori full ae chadayi
Taiyon sarhey janta,
Jithe karnama koi hoje
Gallan sadiyan hi kare janta.
Ni tu phullan ton vi sohal mutiyar ni
Billo nibhna ni tera mera pyar ni,
Ni tu kandeya de kolo phire bachdi
Main kole pairan thalle nappda.
Ni ja lab le koi sau jeya je labda
Ni athra subha jatt da -x2,
Ni athra subah jatt da.
Velliyan de shonk hunde velliyan de wale
Tainu dassan sach ni,
Lohe je sareer gym maar maar kadde
Tu ae mehnga kach ni,
Ho palle ankha na bina gallon larhda
Jatt shonki aa
Te shonk poore karda,
Gal chakmi ji karni ni aundi
Te na hi thuk ke main chat da.
Ni ja lab le koyi sau jeya je labbda
Ni athra subha jatt da -x2.
Adi wali gal koi kari na
Garaari hundi maadi jattan di,
Sari sari raat challe motor de utte
Daaru jaari jattan di.
Te tu aathne nu pub wali jani ae
Shot do ku laga ke dole khani ae.
Jatt botal puri de utte laggeya
Ni botlan da datt pattda.
Nee ja labb le koi sau jeha je labbda
Nee athra subah jatt da -x2.
Asle de shonki
Shonk rakhe na rakane
Kharch jahe paal ke,
Sodhi jehe bande
Billo ghat hi the'aunde
Tu dikha di bhaal ke.
Ho samaa gaaldi hou
Raahan ch mandeer ni
Time chakde ni jaagda jameer ni,
Sach bhagde bhaike wala likhda
Ni ninja pishe naiyo hatda.
Ni jaa lab le je sau jeya koi labda
Ni athra subha jatt da -x2.
Every fan of ninja have been looking for lyrics of his new Punjabi song Athra Subha or subha and hope everybody will like and support as they did to earlier released single tracks & albums.
Music video of song "Athra Subah" featuring Himanshi Khurana & Ninja.
Want to know more about Ninja Punjabi singer ? watch this video