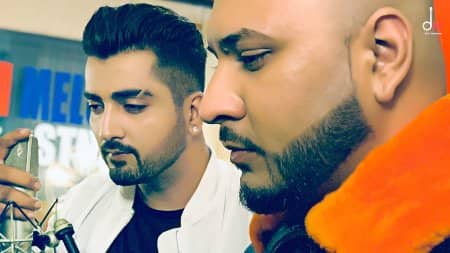 Hath Chumme cover song with Punjabi lyrics hummed by B Praak with shayari vocals, verses spelled by Jaani is a fresh song.
Name of Song : Hath Chumme (Cover)
Artists: B Praak, Jaani
Songwriter, Composer: Jaani
Music Director, Vocalist: B Praak
Cameraman: Raman Anku
Sound Recording: Guri & Aakash Bambar
Label : Desi Melodies
HATH CHUMME COVER SONG WITH LYRICS
Shayari,
Suno ve loko sunan waleyo,
ohne poora kar leya cha ohda,
unjh kade-kade gall ho jandi ae,
par wakh hun mere to raah ohda,
jihde layi main likheya
likheya main ".Hath .Chumme"
haye aise saal nikaah ohda,
aise saal nikaah ohda.
ohnu koyi na jaane
bas mere ton bagair
sat samundar paar ik thanda jeya shehar
mainu koi na pucheyo
ki naa' ae ohda,
aisey saal nikah ae ohda…
mainu supnay aonday rehnday aa ohday te teray nee,
ohnu seenay te sulaway tu harr raat haneray nee,
mera chehra nayi ghumda tere odon char-chufere,
ohnay matha chummeya ya hath chummay teray,
ohnay matha chummeya yaa …
das mainu mili ohnu
mili tu kini vaar
dass mainu ghatt reh gayaa
kithe mera pyaar..
dass mainu mann tera kadon akkeya mere ton
das mainu ki kare hun tera jaani yaar
main kidhar nu jawa, dar-dar thokar khawaan
laaye dardaan nay dairay,
ohnay matha chumya pehlan
ya hatth chummay teray..
tere-tere-tere-tere…..
jaani wangu pyaar ohde ton zaahir nayi honaa
o paisay wala taan honae
shaayar nayi honaa,
oye jani wangu pyar os toh zahir nayi hona
oh paisay wala ta honae par shayar nayi hona
ohday naal lai layin tu main maut naa' le lau pheray,
ohne matha chumeya pehla ya hath chumme tere..