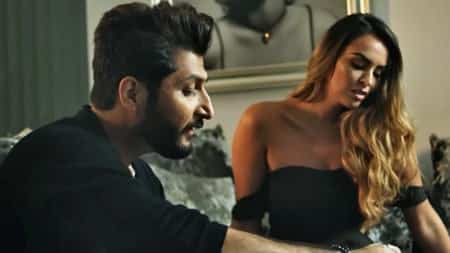 BAARISH LYRICS – It's a romantic Punjabi song with heart-throbbing vocals of proficient artist Bilal Saeed. Farah But has done voice overs as female vocalist and music, lyrics of song are also created by Bilal only.
Ali Mustafa is the songster who handled additional programming for track "Baarish" and also did mixing and mastering of tune to give it a final, polished touch. Murad Ali Khan is the musician that played soulful piece of Sarangi and direction to music video of lovely song is given by Bilal Saeed & G6 Media UK.  Prateek Jain handles digital marketing of latest song baarish and Piyush Chandak is the one who is ditributing it.
BILAL SAEED BAARISH FULL SONG LYRICS
(Shayari)
Main jal raha hoon teri dooriyon mein door kahin,
Tere dil mein bhi dabi koi toh aatish hogi,
Aaj aayi hai phir se yaad teri,
Aaj lagta hai phir baarish hogi
Please come back, I miss you.
Kaali raat te howe payi baarish,
Teri yaad kare payi saazish,
Naale dil di eh farmaish,
Tu ik wari aaja ve
Te dil zara lag jaawe,
Je ik vari aa jaawe,
Te dil zara lag jaawe.
Mushkil dil nu ajj samjhana,
Tainu sajjna paina ae aana,
Jaageya fer ik dard purana,
Kol bithaake tainu sunana,
Mar jaane is chandre dil di,
Poori ho jaaye khahish.
Jay ik waari aa jaavey
Tay dil zaraa lagg jaavey.
Do jaana ne ik ajj hona
Akhiyan da vi nit hajj hona,
Maaf kari je vekhi jaawan
Vekhne de naiyo chajj ajj hona,
Laake seenay deja mainu
Saahwan di garmaaish,
Je ik wari aa jave
Te dil zara lag jave.
Update: Translation to Baarish song lyrics also have been shared on this site. In case if you are seeking meaning of song verses.