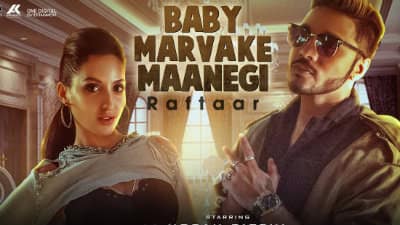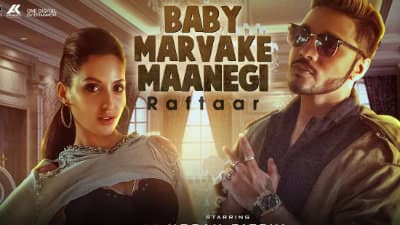 Song Name: Baby Marvake Maanegi
Album Title: Zero to Infinity
Artists: Raftaar, Nora Fatehi
Music Director: Blackout
Video Director: Remo D'souza
Label: Zee Music Company
Baby Marvake Maanegi Lyrics by Raftaar is a latest song from his music album titled as "Zero to Infinity." Remo D'souza directed music video of this track features Nora Fatehi and Raftaar while  music of "BABYA MARVA KE MANEGI" is produced by Blackout.
RAFTAAR'S NEW BABY MARVAKE MAANEGI SONG LYRICS
Baby Mujhe Apni Jaan Ki Qasam
Maine Piya Nahi Whisky Beer Ya Rum
Kabhi Bar Mein Pi Kabhi Car Mein Na Pi,
Tabhi Saath Mein Khadi Hai Meri,
Baby Marva Ke Manegi
Baby Marva Ke Manegi
Dikkat Karva Ke Manegi,
Baby Marva Ke Maaneg -x2.
Iski Toh Perfection Ke Charche Hain Sab Mein
Aire Gaire Ke Muh Na Lagti Hai Club Mein
Koi Chede Toh Lagti Hai Gaali Bakne
Isko Pataane Ke Tu Dekhiyo Na Sapne.
Na Teri Car Mein Ayi Hai
Na Teri Car Mein Jaayegi
Na Tere Baap Ka Khaati Hai
Na Tere Baap Ka Khayegi -x2.
Baby Marwa ke Maanegi
Baby Marwa ke Maanegi
Dikkat Karwa ke Manegi
Baby Marwa ke Maanegi -x2.
Baby Ne Zid Hai Laga Li
Kendi Na Karni Hai Party
Daddy Ko Firti Ghumati
Sari Saheliyan Bhi Ready Karva Li.
Kaali Si Dress Mangvali
Unchi Si Heel Bhi Chadha Li
Thodi Si Vodka Laga Ke
Boli Gaadi Ki Chaabi De De
Mujhe Hai Chalani.
Baby Marvake Maanegi
Baby Marvake Maanegi
Dikkat Karvake Manegi
Baby Marvake Maane.