Lyrics for 'Bad Boy Telugu Song' from Saaho (Telugu Film), with full translation in English, track sung by Badshah, Neeti Mohan Ft. Prabhas & Jacqueline Fernandez.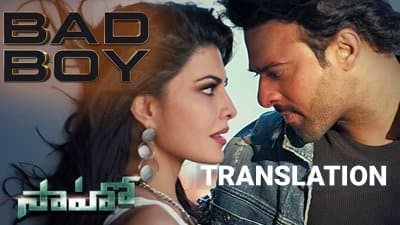 | | |
| --- | --- |
| Song Name: | Bad Boy (Telugu) |
| Movie Name: | Saaho (Telugu) |
| Singer(s): | Badshah, Neeti Mohan |
| Lyrics Writer(s): | Sreejo |
| Music Director(s): | Badshah |
| Video Director(s): | Sujeeth |
| Star Cast: | Prabhas, Shraddha Kapoor |
| Record Label: | ℗ 2019 Super Cassettes Industries Private Limited |
SAAHO | BAD BOY TELUGU SONG LYRICS MEANING
Baby Hold Your Breath,
Every Move I Make Me,
Ni Kanulanu Chesenu Start Struck,
Baby hold your breath.
Every move I make, they make your eyes go star-struck.
Baby Wait a Sec,
Neelo Andam Adigina Maikam,
Baby I'm A Love Drug,
Baby, wait a sec…
your beauty has beseeched me into a trance.
Baby, I'm a love drug…
Let Me Tease You Girl,
Ninu Tarimina Manasuni Feel It,
Let me tease you, girl and chase your heart… Just feel it.
Nuvveppudu Chudani Kalalatho Baby, I Can Steal It,
I can steal the dreams that you haven't dreamt of, baby.
Nalo Sagame Crazy, Another Half I'm Rad Girl,
Baby I'm A Bad Boy, Can You Be My Bad Girl?
Half of me is crazy and the other half is bad, girl.
Baby, I'm a bad boy. Can you be my bad girl?
High, Baby So High,
I S T A Y F L Y,
Fly Like A Helicopter,
Chesta Spin With My X-factor Yo,
High, baby, so high. I… S-T-A-Y F-L-Y
Fly, like a helicopter, yo. I will make you spin with my X-factor, yo.
Just Cash No Cheques,
Naa Game Is On And Naa Swag Intense,
Moodula Unna Baby,
Zara Nee Boy Friendni Chesthanika Ex,
Just cash. No cheques…
My game is on and my sway is intense.
Baby, I'm in the mood and I'll turn your boyfriend into your ex.
Boy Imma Roll With You Roll With You,
Nee Vasamai Poya,
Kaache Choopula Dadiki Dorika Boy,
Neeke Padipoya (x2),
Boy, I'mma roll with you… roll with you… I came under your spell.
I got caught in the invasion of your shooting glances and fell for you, boy.
Nuvvu Fire Nenu Gasoline Boy,
Take Me Higher, You Know What I Mean Boy,
Kiss Me Baby Nenu Neela Mad Girl,
I Know You're A Bad Boy,
I Can Be Your Bad Girl,
You are fire and I'm gasoline, boy.
Take me higher. You know what I mean, boy.
Kiss me, baby
I'm a mad girl like you. I know, you're a bad boy.
I can be your bad girl.
Baby I'm A Bad Boy,
Can You Be My Bad Girl?
I Know You're The Bad Boy,
I Can Be Your Bad Girl?
Baby I'm A Bad Boy,
Can You Be My Bad Girl?