"Bad Boys" is a refreshing addition to the Kannada music scene, and music director Charan Raj's involvement in this project has certainly piqued the interest of music enthusiasts. This song, a part of the upcoming Vijay Kumar film "Bheema," promises to give the Ganesh festival a hip and lively vibe.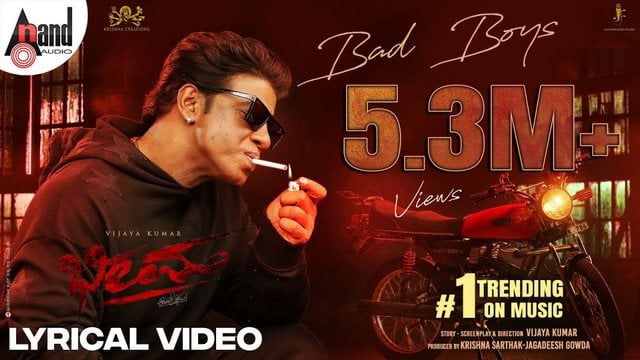 Famous rappers Rahul Dit-O and MC Bijju's expert delivery of the rap style in "Bad Boys" sets it apart. The fusion of rap with Kannada lyrics, penned by Nagarjuna Sharma, creates an exciting and dynamic musical experience. This infusion of rap into Kannada cinema demonstrates the genre's adaptability and ability to resonate with a wide range of audiences.
Charan Raj's musical prowess shines through in this track. He brings together two accomplished rappers and seamlessly integrates their work into the film's background score, ensuring that the music enhances the overall cinematic experience. It's evident that Charan Raj is committed to delivering unique and memorable music to the audience, and "Bad Boys" is a testament to that dedication.
BHEEMA MOVIE | BAD BOYS SONG LYRICS
Bad Boys On The Street
Bad Boys Bartavre On The Street
Psych Psych
Psych Psych Yellidru Psych Psych
Yellidru Psych Psych Mado Psych Man Maklu Navu
Psych Psych Hengidru Psych Psych
Yellidru Psych Psych Swag Alli Killer Navu
Length Length Length Alli Kodta Edre
N_ Mutt Mutt Mutt Nodkobeku
Nodoke Psych Psych, Madode Psych Psych
Muttidre Psych Psych Madok Barodh Navu
D D D Edito
Sutti Balsi Barodilla
Seedha Matter Ge Bartinis
Suddig Baro Sadegalellarnu Huthake Bidtini
Kenkond Barorigellanu Coating
Sakkathag Kodtini Koole Idodral
Nan Yetid Kai Kal Moolena Muritini
Swalpa Psych Adru Bike Mele Boys Na
Hakond Oor Thumba Oodadtivi N Jorag
Show Gal Kotkond Barthivi
Yelle Bachitkondru Didodilla Huokond Idtivi
Bagni Goota Tthi Oota Time Nookond
Bad Boys On The Street
Bad Boys Mc Bijju Han
Nandhene Dod Dhu Antha Munde Bandre
Alladskondu Alladskondu
Mega Serial Thorusthivo Manege Bandu
Bazar Al Full Passaru Nav Pakka Professional-U
Maneg Appa Bandru Silent Irbek Bachagalu
Ey Kaun Re, Une Kushka Tinnko Mane
Sastha Nasha Nako, Machine Leke Marta Tumhe
Kaun Re Une Aye Mai Ich Mane
Sastha Nasha Nako, Machine Leke Marta Tumhe
Cool Agi Koole Kododu, Namge Illa Sittu
Ganchali Madkondu Bandre
Kuydoytiyo Juttu Juttu Juttu Juttu

BAD BOYS MUSIC VIDEO
As for the rest of the album, including a romantic number, the title song "Hai Bheema," a folk track and a song dedicated to Bengaluru, promises a diverse and captivating musical journey in the movie, Charan Raj's collaboration with Vijay Kumar for the second time, following their work on "Salaga," showcases the creative solid synergy between director and composer.
BAD BOYS SONG DETAILS
Title
Bad Boys
Movie
Bheema
Singer(s)
Rahul Dito, MC Bijju
Lyrics Writer(s)
Rahul Dito, MC Bijju, Nagarjun Sharma
Music Composer(s)
Charan Raj
Actor(s)
Duniya Vijaya Kumar