Go Baby Go fame earner artist 'Ronnie Singh' is back with another banger 'Badnaam' whose music is produced by JSL Singh with lyrics written down by Navi Kamboz.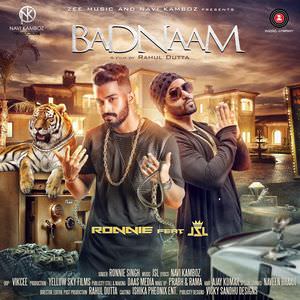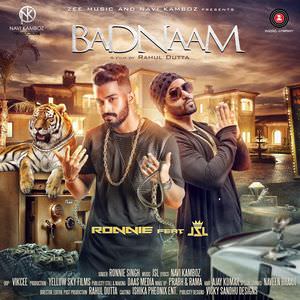 Song Title: Badnaam
Singer: Ronnie Singh
Lyricist: Navi Kamboz
Music: JSL Singh
Actors: Ronnie & JSL
Director: Rahul Dutta
Label: Zee Music Company
Badnaam Lyrics in voice of Ronnie Singh is presented by Zee Music Company with video directed by Rahul Dutta.
Badnaam Song Lyrics – Ronnie Singh & JSL Singh
Kudi badnam daru di gulaam ae
Weekend da daso kehndi ki program ae (x2),
Hot ne adavaan
Nakhre wiggle
Akhan na shikar kare hove jive eagle.
Club vich beet ohdi jandi har shaam ae
har shaam ae.
Kudi badnaam ae
Daru di gulam ae
Weekend da daso kehndi
Ki program ae (x2).
Chad di jawani teri hoi badi famous
Husan tere de pen lag paye status,
Chad'di jawaani teri hoi badi famous
Husn tere de pen lag pye status.
Weed vood marjani peendi sar-e-aam ae
Sar-e-aam ae.
Kudi badnam ae
Daru di gulaam ae
Weekend da dasso kendi
Ki program ae (x2).
JSL baby
Aaj phir wohi baat
Wohi daru wohi raat
Aur roz ki tarah
Dhundoon mein naya saath,
I can see you're looking at me
you're like daaru desi
Jo chad toh jaati hai jhat se
Par saali hai kharab
Hai kharab.
Mera naam
Full aish mera kaam
Ye meri territory
Main yahan ka hoon sultan.
Madam sachi tere aane se
Saare club ka dekh badh gaya tapmaan.
Kamar ke neeche belt ke upar
Aadha tattoo dikhta hai
Ye tattoo dekh banda khade khade hi bikta hai,
Suna hai poora tattoo bohton ko dikhaya hai
Ab kya bataun
sab moh maya hai.
Bombshell kare billo dil te attack
Fasa leya tu ohnu paake beauty trap (x2),
Ferozpur wala Navi jida naam ae
Jida naam ae.
Kudi badnaam ae
Daru di gulam ae
Weekend da daso kehndi
Ki program ae (x2).
Outro…