Baguntundhi Nuvvu Navvithe song from the Telugu movie 'Atithi Devo Bhava' featuring Aadi has artistic lyrics and a glorious English translation with voice lent by Nutana Mohan, Sid Sriram. The bewitching lyrics of the 'Baguntundi Nuvvu Navvithe' canticle were inked down by Bhaskara Bhatla. Shekar Chandra was the maker of BAGUNTUNDHI NUVVU NAVVITHE's gratifying music. The fancy music video of the warbling was led by Polimera Nageshawar.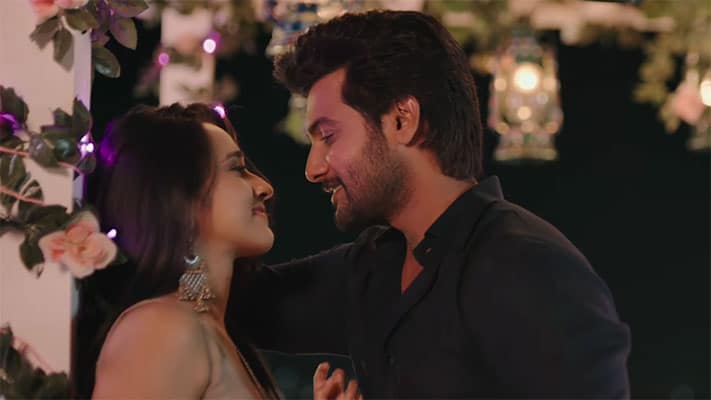 ATITHI DEVO BHAVA TELUGU MOVIE · BAGUNTUNDHI NUVVU NAVVITHE SONG LYRICS ENGLISH MEANING
Baguntundi Nuvvu Navvithe
It feels good if you smile.
Baguntundi Oosuladithe
It feels good, if you talk.
Baguntundi Gunde Meedha Guvva Laga Nuvvu Valithe
It feels good if you nest like a bird on my heart
Baguntundi Ninnu Thakike
It feels good to touch you.
Baguntundi Nuvvu Apithe
It feels good if you stop me
Baguntundi Kanti Kunna Katukantha Ontikantithe
It feels good if the eye liner touches the entire body.
Aahaha Haha Bagundi Varasa
It feels good to hear this.
Nee Meedha Kopam Enthundho Telusa
But do you know that I'm angry with you?
Lalisthe Thaggipothindi Bahusa
Probably it may fade away if you appeased me.
Ee Manasu Prema Banisa
My heart is a slave of your love.
Aithe Bujjaginchukuntane
Okay! I will appease you.
Ninne Neththi Nettukuntane
You're my top priority.
Nuvve Cheppinattu Vintane
I will always listen to you.
Cheli Cheli Jali Choopave
Darling, pity me.
Thadi Cheseddham Pedavulani, Mudi Vesedham Manasulani
Let us wet our lips and tie our hearts.
Dhachesukundham Matalani, Dhochesukundham Hayini
Let's hide the words and rob the pleasure.
Kadhantanenti Chustu Nee Chorava
Can I say no, looking at your initiative?
Vaddhannakodhi Chestavu Godava
You will fight, if I say no?
Nee Nunchi Nenu Thappukodam Suluva
Is it that easy to escape from you?
Kougillaloki Lagava
Entrap me in your hugs.
Ammo Nuvvu Gadusukadha, Anni Neeku Telusu Kadha
Oh God! You are so smart. You know everything.
Aina Baita Padavu Kadha, Padha Padha Entha Sepila
But you look silent. Let's rock the night without wasting the time.
Veli Vesedham Veluthuruni Paripalidham Cheekatini
Let's not allow the light and enjoy the darkness.
Pattinchukundham Chamatalani Chuttesukundham Premani
Let's get sweat and wrap with love.
Nuvvemo Peduthunte Thondaralu, Nalona Siggu Chindaravandaralu
When you're in a hurry my heart feels shy and disturbed
Andhanga Sarduthu Na Mungurulu, Moosavu Anni Dharulu
Adjusting my hair beautifully, you closed all the doors.
Konchem Vadhilanante Ninnila Mottham Jaripova Vennela
If I leave you a little you'll slip away totally from me
Vere Dharileka Nenila Bandhichane Anni Vaipula
I have no other way so I detained you from all the directions.
Baguntundi Nuvvu Navvithe Baguntundi Oosuladithe
It feels good id you smile. It feels good if you talk.
Baguntundi Gunde Meedha Guvva Laga Nuvvu Valithe
It feels good if you rest like a bird in my heart.

Baguntundhi Nuvvu Navvithe Full Song
Atithi Devo Bhava Film's Baguntundhi Nuvvu Navvithe Music Video | Aadi
Let's stream newest music video for Baguntundhi Nuvvu Navvithe from a fancy movie Atithi Devo Bhava.
Let's watch Nutana Mohan, Sid Sriram's very well sung Baguntundhi Nuvvu Navvithe Song Lyrics and their meaning which are featured in the Atithi Devo Bhava film of Aadi. Bhaskara Bhatla has documented the Baguntundi Nuvvu Navvithe Telugu lyrics and Polimera Nageshawar ordered the music video.