Get the Bande Bathale Song Lyrics that Vijay Prakash performed and are featured in Pogaru film of Rashmika Mandanna, Dhruva Sarja. The lyrics writer Chethan Kumar wrote-down the Bande Bathale's Kannada lyrics and Nanda Kishore gave direction to the music video.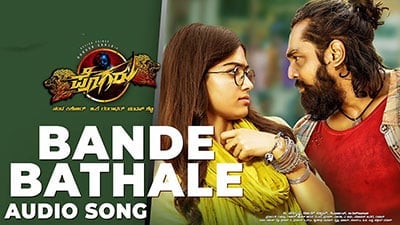 Pogaru Kannada MOVIE • Bande Bathale FULL SONG LYRICS
Bedroom Illu Gadde Bailu,
Gudddad Kallu Gudli Neglu,
Elru Melu Ane Madi Heltheeni Keli
Avalu Teacher Nanu Torcher,
Avalu Boondi Nanu Sendhi,
Oppositeu Charactersee Super Jodi
Tunti Hudgi Ivlu Edeg Ante Butlu,
Janti Ago Hottali Onti Madi Onte Hodalu,
Bande Batthale Avalu Bande Batthale,
Sikke Sigthale Nange Sikke Sigthale,
Jhum Anthade Banda Dhum Anthade,
Ivalna Noddag Ella, Gundge Olage Dum Anthade,
Nirr Anthale Sikkdag Sirr Anthale,
Nanu Eshte Ishta Patru, Nan Mele Gurr Anthale,
Doctorne Karesu Hrudayane Bagesu,
Adarolagu Ninne Jopana Madivne,
Maguvanta Manasu Ninagyake Munisu,
Devrane Nin Myale Na Prana Madagivne,
Bande Batthale Avlu Bande Batthale,
Kaial Thali Kottu Kuthkeg Kattu Anthale,
Kai Tuttu Tindilla Lali Hadu Kelilla,
Tayi Preethi Andre Enu Antha Nange Gottilla,
Habba Madilla Olle Batte Hakilla,
Nange Bandu Balaga Yaru Illa Neene Nanagella,
Ee Pati Nova Ee Papi Jeeva,
Olage Ittukondu Innu Badukaithe,
Na Bayasiddella Nang Sigale Illa,
Neenunu Nan Bittu Hogabedave,
Bande Batthale Avalu Bande Batthale,
Kalig Biddu Neene Nanna Ganda Anthale,
MORE SONGS FOR YOU
Bande Bathale Music Video | Ft. Dhruva Sarja | Rashmika Mandanna
Enjoy the Bande Bathale music video from Nanda Kishore's Pogaru film.
Bande Bathale is the recent Kannada single by Vijay Prakash. Chandan Shetty came-up with the music for Bande Bathale from Pogaru. The poet Chethan Kumar drafted the trendy lyrics of the Kannada song. Nanda Kishore directed the music video of 'Bande Bathale', released on February 18, 2021.