Bandook Lyrics by Nirvair Pannu having music production of Deep Royce are out now. The track 'Maapeyan Da Ladla Ae Son Goriye' also has its lyrics written by Nirvair Pannu.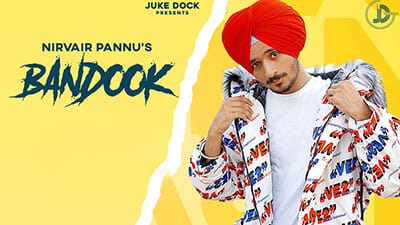 | | |
| --- | --- |
| Song Name: | Bandook |
| Singer(s): | Nirvair Pannu |
| Lyrics Writer(s): | Nirvair Pannu |
MAAPEYAN DA LADLA SON GORIYE – BANDOOK SONG LYRICS – NIRVAIR PANNU
Gall Sun Sire Diye Mutiyare, Neevi Paake Langhdi Aein,
Ainve Kyon Chori-Chori Tak'ke,
Tu Mitran Wal Khangdi Aein,
Ho Jatt Nu Pyar Tere Naal Soniye,
Bura Hun Hoya Mera Haal Soniye,
Tu Kar Gayi Kamaal Sachi Patt Honiye,
Hun Tera Yaar Tere Naal Soniye,
Aashiqui Ch Pair Pehlaan Nai Si Rakheya,
Darrda Si Ainve Naa Main Jaavaan Patteya,
Zindagi Da Hun Tan Eh Route Ho Gaya,
Tere Pichhe Gabru Bandook Ho Gaya,
Oh Vekhi Hun Ik Paase Laade Hiriye,
Munde Di Haye Zindagi Banaade Hiriye,
Tere Naal Zindagi Bitauni Jatt Ne,
Eh Jind Sachi Tere Naave Launi Jatt Ne,
Sochi Naa Main Foki Jahi Gall Karda,
Tere Piche Jana Pal-Pal Marda,
Oh Hor Hun Fabbni Ni Akh Meri Nu,
Tere Jahi Labni Ni Akh Meri Nu,
Ainve Gallan-Gallan Wich Taal Naa Dayin,
Sone Jeha Gabru Haye Maar Na Dayin,
Ho Maapeyan Da Ladla Ae Son Goriye,
Laadan Naal Rakhun Meri Mann Goriye,
Akh Laal Dil Naiyo Kaala Jatt Da,
Sachi Ni Subha Naiyo Maada Jatt Da,
Rakhunga Banaake Tainu Raani Apni,
Banugi Misaal Ni Kahani Apni.
Ho Alldan Ch Gall Udd Gayi Aa Muchh Di,
Har Kudi Mitran Da Naam Puchdi,
Athri Ji Rakhde Aan Look Balliye,
Puchhi Pastol Aa Group Balliye,
Oh Roohan Naal Kar Lai Karaar Sohniye,
Guru Ghare Laavan Laiye Chaar Sohniye,
'deekdi Aa Pind Wali Chhaan Meri Ni,
Tere Baare Puchhdi Aa Maa Meri Ni,
Oh Naiyo Nirivair Pannu Piche Hattda,
Rabb Wangu Sacha Aa Stand Jatt Da,
Ni Tu Ainve Kahnu Arhiye, Gal Karan Ton Sangdi Aein,
Gal Sun Sire Diye Mutiyare.
Bandook – Mapeyan Da Ladla Son Goriye Music Video