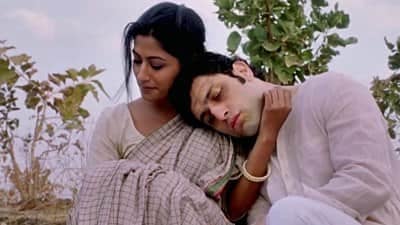 Bawara Mann Dekhne Chala Ek Sapna Lyrics (aka Bawra or Bavra Mann) with Translation in English, describing the meaning of Hindi song verses is a beautiful track from Bollywood film Hazaaron Khwahishein Aisi (2005) is performed by Swanand Kirkire and Shubha Mudgal.
Swanand Kirkire is also the writer of Hindi song lyrics and Shantanu Moitra has composed music for it.
BAWARA MANN DEKHNE LYRICS TRANSLATION
Bawara mann dekhne chala ek sapna
My wandering mind is about to see a dream.
Bawrey se mann, ki dekho bawri hain baatein
The wandering mind has some wandering thoughts.
Bawri se dhadkane hain, bawri hain saansen
My heartbeat is wandering around and so is my breath.
Bawri si karvaton se, nindiya door bhaage,
Sleep runs away from this crazy twists and turns.
Bawrey se nain chaahe,
My wandering eyes;
Bawrey jharokhon se, Bawrey nazaron ko takna
Want to see some crazy sights out of the windows..
Bavra mann dekhne chala ek sapna,
My wandering mind is about to see a dream.
Bawrey se is jahan main bawra ek saath ho
I wish I had an insane partner to live with me in this crazy world.
Is sayani bheed mein bas hathon mein tera haath ho
I want to hold your hand while walking through the crowd.
Bawri si dhun ho koi, bawra ek raag ho
I hope there was a wandering song for me to sing.
Bawrey se pair chahein,
My wandering feet wish to dance;
Baawre tarano ke, bawrey se bol pe thirakna.
to the beats of that wandering song.
Bawra mann dekhne chala ek sapna
The crazy mind of mine desires to have a dream.
Bawra sa ho andhera, bawri khamoshiyan
I wish the silence and the darkness wandered too.
Thar-tharaati loh ho madham, bawri madhoshiyan
There be a shaking light and crazy Stupefactions.
Bawra ek ghoonghta chahe, haule-haule bin bataye,
Bawrey se mukhde se sarakana,
I wish the crazy veil wanders away from the beautiful face.
Baawra mann dekhne chala ek sapna
The crazy heart wishes to have a dream.
Enjoy the wonderful Hindi song "Bawra Mann Lyrics" with their meaning in English language and music video.