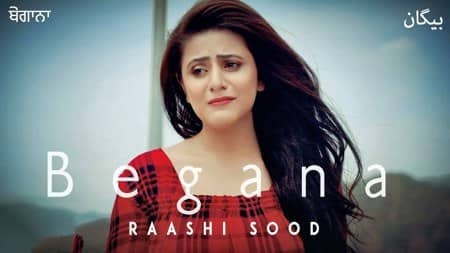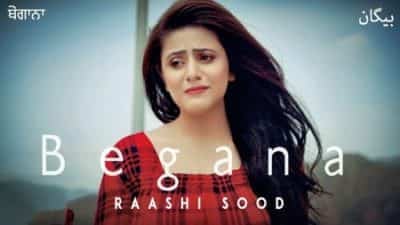 BEGANA LYRICS – A romantic-sad Punjabi song with most loving vocals of Raashi Sood and equally well produced music beats of Harley Josan, is a freshly out tune. T-Series Apna Punjab is the music releasing company.
Navi Ferozpurwala has made nice choice of words by writing verses to "Begana" song of Raashi with MV direction of Yaadu Brar. It's a Wakhra Swag Films directed under the assistance of Anmol Kamboz.
BEGANA FULL SONG LYRICS
Iko mangeya si yaar raba oh vi kho leya,
Metho mera sacha pyar ohvi kho leya,
Ikko jhatke naa' rishtay tu tod ditay ve,
Ohday dhaageyan naa' tainu ve main banni baithi si,
Beganeya wali tu sade naal keeti vay,
Ainvay tainu apna mai manni baithi see.
Haale tak vi aa raah,
Mainu yakeen aave na,
Tu kina vadda dhokha kita mere naal ve,
Sochi samjhi si har saazish teri,
Mann gayi main tainu tu ki khedi chaal ve,
Ve tu la gaya dimag asi dil laya si,
Main shaitan nu hi ainve rab manni baithi si,
Beganeya waali tu sadde nal kiti ve,
Ainve tenu apna main manni baithi si.
Sab ton zyada main Navi tera kita si,
Meri zindagi da tuhi kauda sach ve,
Nakli chamak sanu laike beh gayi,
Main heera samjheya tu si yaara kach ve,
Tera jhootha ae jahaan sare yaar nakli,
Si fareb tere nal duniya jo dekhi si,
Beganeyan wali tu sadey naal keeti vay,
Ainvaye tainu apna mai manni baithi si.
[Shayari]
Tu masuam wangu badal ke
Sanu fasal wangu barbaad kita,
Es qayamat de waqt ton pehla,
Main tainu rab jina hi yaad kita,
Hadhan hi tapp gaya ae hun taan tu
Tainu vi sharam aave taan changa ae,
Har kudi de husan te maran waleya
Tuvi mere naal hi mar jaawe, taan changa ae.