Lyrics to 'Bhaye Pragat Kripala Din Dayala' in Hindi, English both. It's a Ram Navami bhajan sung by Jagjit Singh, anuradha paudwal. Checkout, Bhaye Pragat Kripala Deen Dayala Song lyrics.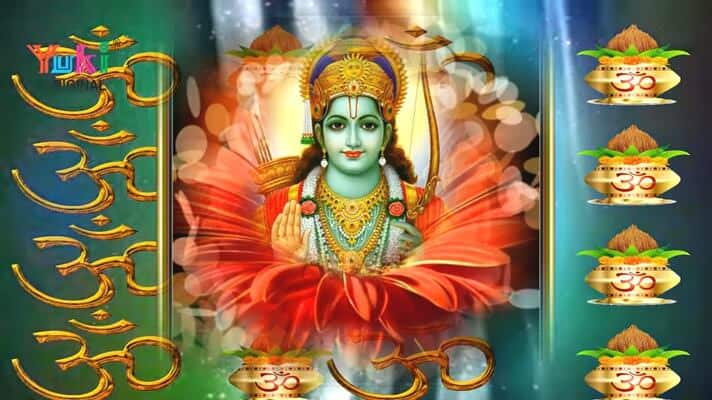 BHAYE PRAGAT KRIPALA DEEN DAYALA HINDI LYRICS
Bhaye pragat kripala deen-dayaala, kaushalya hitkaari,
Harshit mahtaari muni man haari, adbhut roop vichari
Lochan abhirama tanu ghanshyama, nij aayudh bhuj chaari,
Bhushan vanmaala nayan bisala, sobhasindhu kharari,
Kah duyi kar jori astuti tori, kehi vidhi karao ananta
Maya gun gyanatit amana, vaid puraan bhananta
Karuna sukh sagar sab gun aagar, jehi gaavahi shruti santa
So mam hit laagi jan anuaagi bhayo prakat srikanta
Brahmand nikaya nirmit maya, rom-rom prati bed kahay
Mam ur so basi yah uphasi, sunat dheer mati thir na rahey,
Upja jab gyana prabhu muskana, charit bahut bidhi keenh chahey,
Kahi katha suhai maatu bujhai, jehi prakar sut prem lahey,
Maata puni boli so mati dolee, tajahu taat yah roopa
Kije sisuleela ati priyseela, yah sukh param anoopa
Suni bachan sujana rodan thana, hoyi baalak surbhoopa
Yah charit je gaavahi haripad paawahi, te na parahey bhavkoopa.
भये प्रगट कृपाला दीनदयाला कौसल्या हितकारी,
हरषित महतारी मुनि मन हारी अद्भुत रूप बिचारी,
लोचन अभिरामा तनु घनस्यामा निज आयुध भुज चारी,
भूषन वनमाला नयन बिसाला सोभासिन्धु खरारी,
कह दुइ कर जोरी अस्तुति तोरी केहि बिधि करौं अनंता,
माया गुन ग्यानातीत अमाना वेद पुरान भनंता,
करुना सुख सागर सब गुन आगर जेहि गावहिं श्रुति संता,
सो मम हित लागी जन अनुरागी भयौ प्रकट श्रीकंता,
ब्रह्मांड निकाया निर्मित माया रोम रोम प्रति बेद कहै,
मम उर सो बासी यह उपहासी सुनत धीर मति थिर न रहै,
उपजा जब ग्याना प्रभु मुसुकाना चरित बहुत बिधि कीन्ह चहै,
कहि कथा सुहाई मातु बुझाई जेहि प्रकार सुत प्रेम लहै,
माता पुनि बोली सो मति डोली तजहु तात यह रूपा,
कीजे सिसुलीला अति प्रियसीला यह सुख परम अनूपा,
सुनि बचन सुजाना रोदन ठाना होइ बालक सुरभूपा,
यह चरित जे गावहि हरिपद पावहि ते न परहिं भवकूपा,

Bhaye Pragat Kripala devtional track in voice of Tripti Shakya.


Also listen with ith soulful vocals of Jagjit Singh