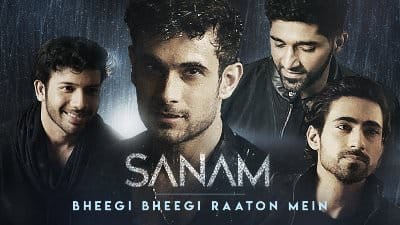 Bheegi Bheegi Raaton Mein Lyrics with English translation – The revamped version of most listened Hindi song "BHEEGI BHEEGI RATON MEIN" is performed by SANAM. This new music video has been directed under the DOP of Charudatta Rane.  Ishan Naik is mixing, masterting engineer for song while music production is done by Sanam Puri with Venky S and Keshav Dhanraj.
BHEEGI BHEEGI RAATON MEIN LYRICS TRANSLATION
Bhigi bhigi raton mein
Phir tum aao naa -x2,
Aesi barsaton mein aao naa -x2,
(repeat),
 Oh dear, visit me again in such wet & rainy nights,
In such rains, visit me..
 Dhadkano mein aa gaya hai
Ek nagma tere pyar ka
Jaisay koyi sur mila ho
Dil ke taar say
Dil ke taar ka,
 A song of your love has resided in my heart,
Like some chords of our hearts have matched.
 Pal ki haseen mein
Yunhi dil lagi mein
Ye dil gayaa…
 In a moment of happiness,
I simply lost my heart, I lost my heart… 
Humein kya mila hai
Tumhe toh mera dil bhi mil gaya..
 What did I get ?
Although you got my heart too ?
 Leke pyar aankhon mein, aao naa..
 Bheegi-bheegi raaton mein
Fir tum aao na
Aesi barsaton mein aao naa.
 Having love in your eyes, do come,
In some rainy, romantic nights
Do visit me again, my beloved.
 Aa rahi hai teri yaadein
Dil mera phir bekarar hai
Tum milogi haan milogi
Dil ko mere aitbaar hai,
 I have been missing you,
And it has made my heart is restless,
Of course, I will get you,
My heart believes…
 Khuli hai ye baahein
Dekhein nigaahein
Rasta teraa,
Zara muskura ke
Phir se dikha de, wohi adaa.
 These arms are all open for you,
And yet my eyes have been waiting for you,
Just smile a little for me and show me that play again.
 Ya toh meri yaadon mein, aao na.
 Bheegi bheegi raaton mein
Phir tum aao na
Aisi barsaton mein aao na.
 Or else you come into my memories,
In the rainy nights, visit me again,
In such rains, do visit me.