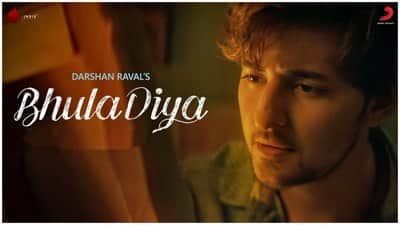 Bhula Diya Lyrics with their English translations reporting the meaning of latest Hindi song, performed by Darshan Raval is out now. A M Turaz writes Hindi lyrics for track and its musical composition is created by Anurag Saikia. Also checkout, This song lyrics in Hindi language (fonts).
LYRICS OF DARSHAN RAVAL – BHULA DIYA MEANING
Teri aankhon ki gehrayi mein,
By looking in the depth of your eyes;
Samaa gaye hain hazaaron gham,
Thousands of my pains were taken away.
Jo inme mila hai sukoon mujhe,
The satisfaction I have got seeing in them;
Kahin nahi hai khudaa kasam,
Swear on god, I have found nowhere else.
Teri nigaahon jaana mujhko,
O dear, the beautiful eyes of yours;
Naseeb mera dikha diya,
Have shown me my destiny.
Har ik manzil se meri mujhko,
To the every single destination of life to be reached;
Bas ik lamhein mein mila diya.
In just a moment, they have made me familiar with.
O maine ishq ki har gali ko sajaa diya,
I have decorated every street of love with your name on them.
Tere naam se maine khud ko bhula diya,
And I have forgotten my identity in your love.
Bhula diya,
I have forgotten.
Saansein na chale tere bina
I can't breathe (I don't feel comfortable) when you're not around.
Aisa lage jaise ki sara jahan tham gaya,
It seems like the world has stopped.
Shaamein na dhalein tere bina
The evenings don't seem to find its dawn.
Subha na ho, aise ki mausam tuhi ban gaya,
My mornings don't arise. Like you're the climate.
Teri panaahon ne toh mujhko
The company of yours;
In ehsason mein duba diya
Has made me lost in the feelings of love.
Teri ibadaton ne mujhko
Loving you intensely;
Sajdon ke kabil bana diya.
Has made me worthy to be a devotee of yours.
Oh maine ishq ki har gali ko sajaa diya
I have beautified all the love streets;
Tere naam se maine khud ko bhula diya.
With your name. And I have forgotten my identity, loving you.
Bhula diya.
I have forgotten.
Darshan Raval releases his new single track "Bhula Diya Lyrics" (AKA Tere ishq me khud ko bhula diya) songfrom Indie Music label. Krishna Marimuthu directs music video for song starring Darshan Raval with Namrata Sheth. Checkout the transaltions and meaning of this loving track.
| | |
| --- | --- |
| Song Name | Bhula Diya (Hindi) |
| Artist(s) | Darshan Raval |
| Album | Bhula Diya – Single |
| Music Composer(s) | Anurag Saikia |
| Lyrics Writers | A M Turaz |
| Label | Sony Music Entertainment India Pvt. Ltd. |