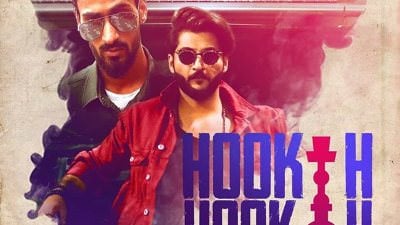 Hookah Hookah tiled Punjabi song with middle-east music beat is a latest song of Bilal Saeed, he also has penned lyrics to song while Muhfaad is rapper featured.
The official song "Hookah Hookah" has been released by Desi Music Factory and with music production of Bloodline Music. Bilal and Mufaad are performers, lyrics writers with the music project presented by Anshul Garg.
HOOKAH SONG LYRICS BY BILAL SAEED
Mainu chadeya shonk tera
Aaja challiye sheesha peene,
Sab nu shad ke 12 waj gaye
Aaja chaliye sheesha peene -x2,
Baaki gallan ne bekaar
Baith ja oh mere yaar,
Mauj maaro mere naal,
Habibi…
De de mainu hukka hukka
Fook de gum tu,
Pee mere naal hukka hukka
Na lai tension tu -x2.
Cherry howe, berry howe
Keda peena bol adiye tu,
Sweet howe smokey howe
Keda peena bol adiye tu -x2.
Drink maaro 3-4 loki vekhan bar-bar,
Smokey like a superstar, habibi…
Dede mainu hookah hookah
Fook de gam tu,
Pee mere naal hooka hookah
Na le tension tu -x2.
Teri dhuandaar performance wallah lajawab
Tujhe dekh khush huwe saare shekhin aur nawab,
Standing ovation deke kehte hain tujhe…
Maharaj nawab bas rehte na patauti mein
Shake karun jab main chill karun saudi mein,
2 seater meri lambo mein baith
Saath friend bhi le,
Bitha lunga usay godi mein,
A to z armaani se zanauti mein
Sher khulle ghoome
Mere bangle aur kothi mein,
Talented toh baut hi main
Chaar challe banaake nikaalun audi mein,
Kar bharosa mujhpe aankhein meech
Baith saath mein mere saara dhuan kheench
Maine poocha flavour kaun sa pasand hai
Woh paagal ki bachi boli s_x on the beach,
Lagaadi aag jaise maachis ki tilli ne
Farak nahi koi tujh me aur billi mein
Kaat ke rasta, tha rasta tu chhod gayi
Ja hukke ke tarah tu bhi ban huyi delhi mein.
De-de mainu hooka-hooka
Phook de gham tu,
Pee mere nal hooka-hooka
Naa lai tension tu -x2.
[videopress 9YC7WpFy]