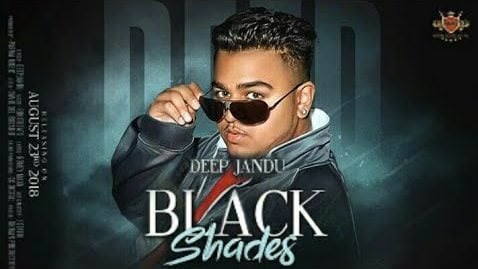 BLACK SHADES LYRICS – The well-known Punjabi songster Deep Jandu has teamed-up with songwriter Romey Maan and music director Rokit Beats for his new song. David Del Rosario is video director who shot music video of Punjabi song "Black Shades" by Deep Jandu, releasing on RMG (Royal Music Gang).
NEW SONG BLACK SHADES LYRIC DEEP JANDU
Oh rang ne chitte
Caran de,
Shade kaale-kaale laaye yaaran de -x2,
Kurte pajame jatt firde aa paayi,
Downtown wich poori agg jande laayi -x2,
Vekh piche aunde
Tolle naaran de,
Shade kale kale laye yaran de,
O rang ne chittay caran de,
Shade kale-kale laye yaran de.
Oh sadkan di chest utte painde bhangre
Baddlan nu bass ae makhol kardi,
Vairiyan di tolli hath dhare kanna te
Boch-boch langhdi ae baala darrdi -x2,
Waepon ae rakhde jo hunde kamjor nu
Jatt sare gym maarde aa anne zor ne,
Na parkhi jigre sardaran de,
O rang ne chittey caran de
Shade kaale kaale laaye yaraan de.
Dashboard utte notan diyan guddiyan
Baabe di ae mehar kade kita maan ni,
Karidi help bina soche sab di
Dil da nice jatt romey maan ni -x2,
Kakh haan main kakh mere yaaran bin oye
Ehna de siran te game'am karaan win oye -x2,
Na vekhe muh kade haaran de,
Oh rang ne chitte caran de
Shade kale kale laye yaran de -x2.
[videopress qRUOFfzn]
Song Credits / information:
Song Name
Black Shades (Punjabi)
Artist(s)
Deep Jandu
Lyrics Writer(s)
Romey Maan
Video Director
Music Director
Rokit Beats
Label
RMG
​