Bolo Har Har Har Lyrics by Badshah,Megha Sriram and Mohit Chauhan is powerful anthem from Ajay Devgn's latest Hindi film Shivaay.Basically traditional lyrics of 'BOLO HAR HAR' title song are penned by Sandeep Shrivastava and music composition is from Mithoon.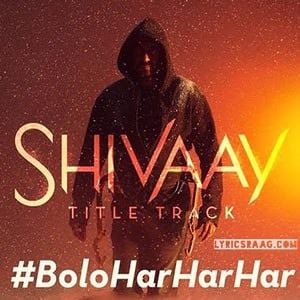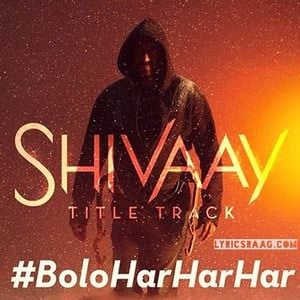 Song Name: Bolo Har Har Har
Artists: Mohit Chauhan, Badshah, Megha Sriram
Music: Mithoon
Lyrics Writer: Sandeep Shrivastava
Album/Movie: Shivaay (2016)
Bolo Har Har Har Lyrics – Badshah | Shivaay Movie

Title Song
Aag bahe teri rag mein
Tujh sa kahan koi jag mein
Hai waqt ka tu hi toh pehla pehar
Tu aankh jo khole toh dhaaye kehar.
to bolo har har (x2).
Aadi na ant hai uska
Wo sabka na inka unka
Wahi hai mala wohi hai manka
Mast malang woh apni dhun ka,
Jantar mantra tantar gyani
Hai sarvagya swabhimani
Mrityun-jai hai maha vinashak
Omkar hai isi ki baani,
Isi ki isi ki isi ki baani (x2).
Bhang dhatura bel ka patta,
Teeno lok isi ki satta,
Vish pee kar bhi adig amar hai,
Mahadev har har hai japta.
Wohi shunya hai wohi ikaaye (x2)
Jiske bheetar basa shivaay.
Aghoranna paro mantra
Nasti tatwam guro param
Nagendra haraye Trilochanaye
Basmanga ragaye maheswaraye
Nithyaya shudhaye digambaraye
Tasmai nakaraya Namashivaye,
Shivam rakhtramam
Shivam paahimam
Shivam trahimam
Shivam rakshmam
Shivam paahimam
Shivam trahimam
Mahadev ji
Pam paahimam sharnagatam
Twam paahimam
Pam rakshmam shiv
paahimam shiv.
Aankh moond kar dekh raha hai
Saath samay ke khel raha hai
Mahadev maha-ikaaki
Jiske liye jagat hai jhaanki,
Jataa mein ganga chaand mukut hai
Soumya kabhi-kabhi bada vikat hai,
Aag se janma hai kaislashi
Shakti jiski daras ki pyasi
Hai pyaasi
haan pyasi.
Ram bhi uska raavan uska
Jeevan uska maran bhi uska,
Tandav hai aur dhyan bhi woh hai
Agyani ka gyan bhi wo hai.
Aankh teesri jab ye khole
Hile dhara aur swarg bhi dole,
Goonj uthe har disha shitij mein
Naag ussi ka bam bam bole.
Wohi shunya hai wohi ikaaye (x3),
Jiske bhitar basa shivaay,
Toh bolo har har har,
Ja ja kailash ja kar vinaash
Ja ja kailash ja kar vinaash
Ja ja kailash ja kar vinaash
Ja ja kailash ja sarvanaash
Toh bolo har har har (x2).
Yaksha swaroopaya jatta dharaya
Pinaka hasthathaya sanathanaya
Divyaya devaaya digambaraya
Tasmai yakaraya namashivaya.