"BOO THANG," featuring Varinder Brar and Jyotica Tangri, is a captivating Punjabi song that delivers a musical composition and offers an intriguing music video that enhances the overall visual and auditory experience.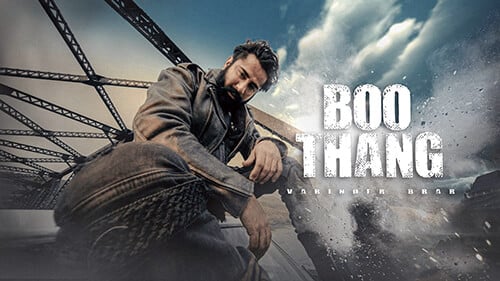 The music video's setting in an abandoned area with a bridge and derelict houses and factories provides a unique backdrop that adds a touch of mystery to the song. Varinder Brar and his co-star, a talented white girl, bring the lyrics to life with their performances in this visually striking music video.
Jyotica Tangri, known for her distinctive folk singing style, delivers an exceptional performance in "BOO THANG." Her fusion of Punjabi lyrics and English words creates a refreshing and specific composition. Her voice adds a unique flavour to the song, making it stand out in the Punjabi music scene.
BOO THANG SONG LYRICS
Meri Gal Sun Ve Jatta, Kahton Sooli Tangda Ve,
Jivein Beyonce Jeri Rakhi Firdae,
Mainu Kyun Na Rakhda Ve,
Mainu Kyun Na Rakhda Ve, Mainu Kyun Na Rakhda Ve,
Suhe Ve Cheere Waleya Main Keni A
Le A Fancy Car Main Nal Tere Beni A
Ik Chak Li Hennessey Nal Ve Nal Tere Beni A
Ho Kudiyan Ton Vadh Bilo Vairiyan Nu Chaune A
Jyada Hi Ae Fad Kehde Andar Vi Laone A
Kabootar Vi Rakhe Tote Lokan De Udaunde A
Mike Amiri Kade Ferragamo Paune A
Oh Cup-An Vich Whisky Te Quarter Jahe Tasle,
Vadhgi Chadhayi Lohe Lak Nal Kas'le,
Ap Ghat Bolde Te Raule Paun Masle,
Tan Mere Nal Yar Hunde Yaran Nal Asle,
Jina Tera Kardi A Main Ona Kahton Karda Ni,
Jivein Vairi Gutt Ton Fadda Ae,
Ban Meri Kyun Fad'da Ni, Ban Meri Kyun Fad'da Ni,
Suhe Ve Cheere Waleya Kyun Akda Ve,
Soni Jei Nar Da Phone Na Chakda Ve,
Soni Jei Nar Da Phone Na Chakda Ve,
Zindagi Te Phone Te Dnd Mode Laya Ae,
Kayian Nu Tan Number Vi Pauncho Bahar Aya Ae,
Ho Jidan Da Jatt Life Soniye Ni Gaya Ae,
Bagan Vich Raund Te Rakhi Nal Maya Ae,
Tere Nal Bhavein Karan Ghat Conversation A
Oh Dil Vich Already Teri Ni Location A
Roz Lagge Mehfil Te Roz Hi Occasion A
Lifestyle Jivein Chal Ri Vacation A
Asla Barood Tan Sanu Lena Aunda,
Kudiyan De Gal Lagna Thoda Jea Aukha,
Han Sanu Vairian De Gal Paina Aunda,
Jhanjran Har Suit Jo Vi Tera Dil Karda,
Jake Jithon Marzi Le Li,
Ess Athre Jatt Di Jan Ae Tu Ik Var Jake Kehdi,

The lyrics of "BOO THANG" tell a relatable relationship story. The female character expresses concerns about her boyfriend's lack of care, affection, and responsiveness. On the other hand, the male character claims his love but is seemingly entangled in a mafia lifestyle that prevents him from fully dedicating his time to the relationship. He offers to provide her with material possessions, but she truly desires his presence and attention. Her request for a nice car to go for a drive is a simple yet poignant expression of her longing for quality time with her partner.
BOO THANG MUSIC VIDEO
"BOO THANG" stands out for its lyrical depth and the captivating storytelling in the music video. The fusion of Punjabi and English lyrics, coupled with the unique vocal performance by Jyotica Tangri, makes this song a compelling addition to the Punjabi music landscape.
SONGS FOR YOU
Tha (Sadi Zindagi Ae Thaa Balliye) — Varinder Brar
Wang Golden — Jyotica Tangri, Sajjan Adeeb
Saari Raat — Jyotica Tangri
BOO THANG SONG DETAILS
Track Name
Boo Thang
Singer(s)
Jyotica Tangri, Varinder Brar
Lyrics Writer(s)
Varinder Brar
Composer(s)
Gill Saab