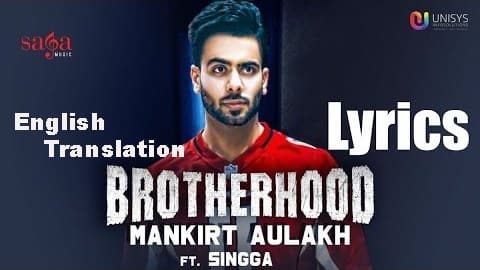 Brotherhood Lyrics (English Translation) – Mankirt Aulakh: This trending Punjabi song has been pleasantly hummed by Mankirt and music is composed by Mix Singh. Get meaning of song lines here.
MANKIRT AULAKH NEW BROTHERHOOD SONG LYRICS TRANSLATION
Vadda sher da shikaari
Kadey cheete nahiyo dakkda oye,
The great lion hunter never prey on cheetahs.
Yaraan bin kakh da
Yaraan nal lakh da oye -x2,
I am nothing without my brothers alike friends,
And a million dollar person with my friends.
Ho banda bunda kuttna
Je bamb kitay suttna
Khazana kadey luttna ta yaar ne,
If have to beat somebody, drop a bomb or rob a treasure, my friends are always there for me.
Zid nu pugaona howay
Jittay nu haraona howay
Saalay nu daraona howway yaar ne.
To fullfill my heart wishes, to defeat the winner or scare someone, friends are there for me.
Ho fir M.P da putt vi
Mooray akh naiyo chakkda oye..
and while him them beside me, son of M.P (Member of Parliament (India)) also doesn't dare to look up at me.
Yaraan bin kakh da
Yaraan naal lakh da oye -x2.
Without friends nothing and with them I am million dollar.
Ho dukh nu vandaon waaley
Hikk naal laun waaley
Hakk jeya jataun waaley yaar ne,
To share my grief, hug me and have right on me, my friends are that kind.
Ho dilan wich rehn
Jede mehfilan ch behn
Tainu bhabi-bhabi kehn wale yaar ne..
The one reside in hearts and sit in gatherings,
And to call you sister-in-law my friends are.
Yaar bapu ton chori
Manja motor te rakhda oye..
I, without acknowledge of my father,
Have put a bed on the place of water motor in the fields.
Yaran bin kakh da
Yaran nal lakh da oye -x2.
Nothing apart from my friends and very valuable in their presence.
Oh bakkri bhulekhay vich sher ban jandi aa te
Te cheete ohda kardey shikar ne
Vellyan te relliyan de vich naam bole
Naam bole week ona mere yaar ne.
The goat misunderstands itself to be a lion and then cheetahs hunt it down,
Our name is mentioned in political rallies.
Ho vadda chota changa mada
Kade naiyo thokkeya
Thokkeya aa jehda kare chaud ni,
Never shot an older, a younger and a good person in life but the one who always brag a lot.
Mereya yaraan de bare maada jehda bolu
Lggu pitbull moore ohdi daurh ni.. -x2,
The one who snitch about my friends,
Shall by chased my pit-bull dog.
Lok-Sabha ta leke Pind di ground tak
Singge de ta failey hoye yaar ne,
From The Lok Sabha (House of the People) to ground of our village my friends are spread everywhere.
Yaraan di yaari layi singga andar gaya si
Hun sunya Flow honi bahar ne..
Singga went to jail for his friends and DJ Flow (my friend) is abroad nowadays.
Maalpur de yaraan layi
jatt marno nai ada oye..
I never get enough for standing out for my friends from Mahilpur village.
Sonu Batth je yaaran layi
Jatt marno nayi akkda oye..
Friends like Sonnu Batth, I never get enough of supporting them
Yaaraan bin kakh da
Yaraan nal lakh da oye.
I feel merely very worthless alone and yet quite valuable with them.