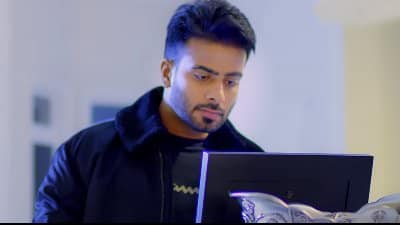 Brotherhood is just another released likable Punjabi song of Mankirt Aulakh and it has lyrics written by Singga songwriter, he also has performed the song alongside Mankirt. Mix Singh is music-maker and the video production has been handled by Sukh Sanghera. Saga Music acquires all rights of song and Punjabi song "BROTHERHOOD" of Mankirt Aulakh is produced by  Sumeet Singh.
BROTHERHOOD FULL SONG LYRICS
Vadda sher da shikari
Kade cheetay naiyo dakkda oye,
Yaaran bin kakh da
Yaaran nal lakh da oye -x2,
Ho banda-bunda kutna
Je bamb kite sutna
Khajana kade lutna ta yaar ne,
Zid nu pugauna howe
Jitte nu harauna howe
Saale nu darauna howe yaar ne.
Ho phir .M.P da putt vi
Mooray akh naiyo chakkda oye..
Yaraan bin kakh da
Yaraan naal lakh da oye -x2.
Ho dukh nu wandaun wale
Hiq naal laun wale
Haq jeya jataun wale yaar ne,
Ho dilan wich rehn
Jede mehfilan ch behn
Tainu bhabi-bhabi kehn wale yaar ne..
Yaar bapu ton chori
Manja motor te rakhda oye..
Yaaran bin kakh da
Yaaran nal lakh da oye -x2.
Oh bakri bhulekhe wich sher ban jandi aa te
Te cheetay ohda karde shikaar ne
Vaillyan te railliyan de wich naam bolay
Naam bolay week ona mere yaar ne.
Ho vadda chota changa mada
Kade naiyo thokkeya
Thokkeya aa jehda kare chaud ni,
Mereyan yaaran de bare mada jeda bolu
Laggu pitbull mooray ohdi daud ni.. -x2,
Loksabha ton laike
Pind di ground tak
Singgay de tan phailay hoye yaar ne,
Yaran di yari layi singga
Andar gaya si
Hun suneya Flow honi baahr ne..
Maalpur de yaaran layi
jatt marno nayi akkda oye..
Sonu batth je yaaran layi
Jatt marno nayi akkda oye..
Yaarán bin kákh da
Yáaran nal lakh dá oye -x2,