Check out Telugu Song 'Bujji Bujji Bangaram Lyrics' from Karthikeya & Anagha L K Maruthora's film 'Guna 369' with English translation.The beautiful duet romantic Telugu track 'BUJJI BANGARAM' has been voiced by Nakash Aziz & Deepthi Parthasarathy with its lovable song-lines delivered by lyricist Anantha Sriram.Chaitan Bharadwaj is director of music and following are the full lyrics with their explanation and official music video.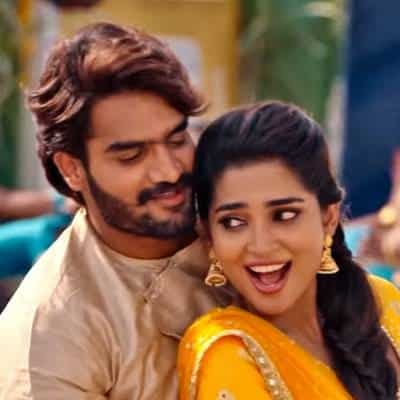 Song Details
Title of Song:
Bujji Bangaram
Movie Title:
Guna 369
Vocalist(s):
Nakash Aziz, Deepthi Parthasarathy
Star Cast:
Karthikeya, Anagha L K Maruthora
Songwriter(s):
Anantha Sriram
Music Director(s):
Chaitan Bharadwaj
Music Company:
© 2019 Aditya Music
GUNA 369 | BUJJI BANGARAM SONG LYRICS | ENGLISH MEANING
Kalalo Kooda Kashtam Kadhe Ee Hayi,
Katha Mottham Thipesave Ammayi,
It's hard to believe that this is not a dream,
You have changed the whole story, my girl.
Vadalakunda Pattukunta Nee Cheyi,
Nuv Atta Nachesavoi Abbayi,
I will always hold your hand and not let go,
You have made it so, my man.
Nammaleka Nammaleka Nannu Gicchukuntunna,
Noppi Putti Ekkadleni, Santhoshamlo Thulluthunna,
I can't believe, so I have to pinch myself to know this is real.
The pain I feel is making, My heart burst with joy.
Navvaleka Navvaleka Potta Pattukona,
Picchi Patti Nuvvese Chindhulne Choosthunna,
My stomach hurts, laughing so much at the way you are jumping about in joy.
Thappadhika Bharinchave Na Bangaram,
Bujji Bujji Bangaram,
Nee Vayyaram Challuthundi Theepi Karam,
Now you have to get used to this, My darling.
My sweet darling.
Your beauty is sweet and spicy.
Na Bangaram Bujji Bujji Bangaram,
Nee Yavvaram Thenchutundi Siggu Dharam,
My darling! My sweet darling!
Your antics are making me even more shy.
Ye Sontha Voorilo Kalla Mundarey,
Kottha Dharulenno Puttayey,
Anthelera Jantagunte Anthelera,
I can see new paths form,
In my hometown right in front of my eyes.
That is how it is that is how it is when you are a couple.
Sontha Varitho Vunnaninnaley,
Gurthuramu Pomanannayey,
Jathalo Padithe Jarigey,
I can't remember the days I spent with my loved ones anymore.
When you fall in love, this is the magic it creates.
Jadhu Idhega Muddhulenno Pettaliga,
Petti Gallo Pampaliga,
Oopirantha Gandham Aipoyenthaga,
I have to give you so many kisses.
I have to send these kisses through the air till I have breath left in me.
Mundukoche Unnanuga Endukamma Inka Daga,
Nannu Malli Malli Voorinchenthaga,
I am right in front of you,
Why do you tease me like this?
Thappadhika Bharinchara Na Bangaram,
Bujji Bujji Bangaram,
Nee Yavvaram Minchipothe Peddha Neram,
Now you have to get used to this, My darling.
My sweet darling,
If your antics get out of hand, they will become a crime.
Na Bangaram Bujji Bujji Bangaram,
Nee Vayyaram Pettamaku Antha Dhooram,
My sweet darling!
Don't keep me away from your beauty.
Ye Ninnu Thakithe Okkasariga,
Pattukunde Nannu Adhrushtam,
Challe Challe Ekkuvaindi Thaggnchalley,
The moment I touched you,
I feel like luck is finally on my side.
Enough of this Reduce your praise.
Unna Janmani Mundhu Janmani,
Chutti Icchinanu Nee Ishtam,
Arere Adhigo Mudhire Paithyam Adheley,
I am giving you this life and my next life, It's up to you now.
See, how the madness is increasing in you.
Enno Enno Annaruley,
Enno Enno Vinnamuley,
Vatti Matallone Enno Vinthaley,
Many have said these words,
I have heard all these words before,
There are so many wonders in empty words.
Sarle Sarle Cheppavuley,
Sandhu Sandhu Thippavuley,
Vachi Chethallone Choopistha Bhaley,
Okay, we have said these words before.
You have heard them everywhere.
I will show you in action, anyway.
Thappadhika Bharinchana Na Bangaram,
Now I have to get used to this, my darling.
Bujji Bujji Bangaram,
My sweet darling,
Nee Yavvaram Nacchutundi Sukravaram,
All your antics, I will like them on Friday.
Na Bangaram Bujji Bujji Bangaram,
My darling! My sweet darling!
Nee Vayyaram Gucchuthundi Poola Haram,
Your beauty is making a garland of flowers.