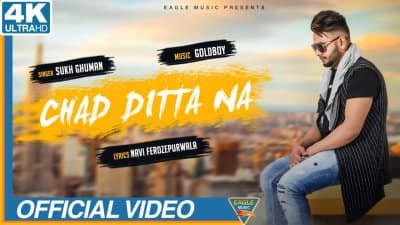 Singer: Sukh Ghuman
Album: Chad Dita Na (Punjabi)
Music Composer: Gold Boy
Lyrics Writer(s): Navi Ferozpur Wala
Label: Eagle Music
Chad Dita Na is a sad song and it has Punjabi lyrics drafted down by Navi Ferozpur Wala with leading vocals contributed by Sukh Ghuman. Gold Boy is music composer, director and song has been released by Eagle music company.
SU

KH GHUMAN CHAD DITA NA SONG LYRICS | GOLD BOY
Main door ho gayi aan
Kaun nerhe aa gayi
Das vi de kaun hun
Dil tere nu bha gayi,
Pyaar naal mainu tu bulauna chad dita naa?
Pehlan wangu russi nu manauna chad dita naa?
Sachi-sachi dasi mainu
Chauna chad dita na? -x2.
Jo vi khareed da si
Photo si dikhaunda tu
Odon meri goodnight bina
Kade nai si saunda tu,
Saun lagge hun kade phone vi nai karda
Hun tera chat kite bina kiwe sarda
Main vi tere supne ch aunda shad dita na?
Pehla vangu rusi nu maaona shad dita na?
Sachi sachi dasi mainu
Chaona shad dita na? -x2.
Dhakke naa' karaiyan naiyo jandiyan ve kadran,
Main mar ci jawa te
Tu nai leniya khabran,
Lagda ni shaurtan di neend teri tuttugi
Tu taan langh jana meri laash de vi utton di,
Tere layi main .Navi jadon rona chhad dita naa,
Chale jaana saahan jadon auna chhad dita na,
Sachi, sachi dassi mainu
Chauna chad dita na -x2.