Chadra Lyrics from the duo of Kamal Khan & Kuwar Virk, is an energetic anthem. Rajvir is writer of track's verses while Sumit Bharadwaj created music video.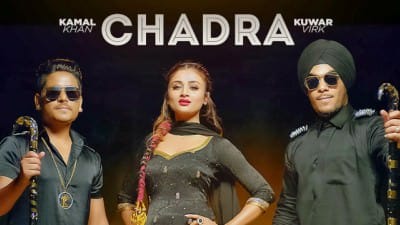 Song Name: Chadra [Punjabi]
Performers: Kamal Khan, Kuwar Virk
Songwriter: Rajvir
Video Director: Sumit Bharadwaj
Mixing & Mastering: B Sanj
Release Dates: 19 June, 2017
Label: Tseries
KAMAL KHAN'S CHADRA SONG LYRICS – KUWAR VIRK
Intro,
Ruldi Ferrrari kade marda na round ni
Tere town nalo vadda mere ghar da ground -x2,
Ki Harley, Bugatti
Ki pairan ch Zanotti -x2,
Sanu show-off karan da shonk nai,
Dekh paya hoya chadra ae kina sohna lagda
Pairan wich jutti tilledar ni -x2.
O kari zara gaur billo
Dassan tenu jediyan
Aa sheharna vi mere pishe
Maar diyan gediyan -x2,
Teri ban ni ni gal
Eh masle da hal -x2,
Aisi ishqe di maar ta main maarni.
Dekh paaya hoya chadra ae
Kina sohna lagda
Peraan vich jutti tilledar ni -x2.
Tere hip-hop nal
Jutti tille aali paayi aa
Kaali paag, kaale Claire
Niri hi tabaahi aa,
India ton laike LA
Har thaan Punjabi phaile
Jeda kare desipune nu support
Mera bai aa.
Sadhan waleya di
Tadaad hundi jandi aa
Shukrana malka
Meri aukaat hundi jandi aa.
Yaar tera famous
Hater sarhi jande ne
Ohi FB te selfie
Mere naal paunde ne.
Itna tu ban ta
Mainu farak na painda…
Ehna da caliber zero
Taahin dari jande ne.
Loki photo-an karaunde
Naal paunde hashtag ni
Oh poori duniya hi jaan di ae
Mitran da swag ni -x2,
Rajvir di ae vaari
Ohdi adi hoyi garaari -x2,
O jani khani ni fasaunda
Khan naar ni.
Daikh paya hoya chadra ae kinna sohna lagda
Pairan wich jutti tiledar ni -x2.
The latest Punjabi song 'Chadra' is proudly sung by Kamal Khan and Kuwar Virk rapped in it, also produced music. Rajvir is lyrics writer of this lovely song.