"Chakkara Chelulla Penne", with its wonderful lyrics, is a delightful Malayalam song that beautifully captures the essence of love and admiration for someone special. The lyrics, penned by Abijith Sethu, are a poetic masterpiece that paints a vivid picture of affection and fascination.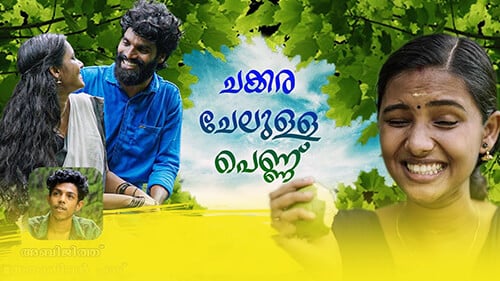 Unmesh Velappaya's enchanting voice adds a touch of sweetness and emotion to the song, making it a truly soulful and heartwarming experience. His flawless rendition brings out the depth of emotions conveyed by the lyrics, leaving a lasting impression on the listeners. Composer Abijith Sethu's brilliance shines through in the music and perfectly complements the heartfelt lyrics. The melody is captivating and soothing, creating a delightful musical journey for the audience.
UNMESH VELAPPAYA · CHAKKARA CHELULLA PENNE SONG LYRICS
Chakkara Chelulla Penne Ente Kunjumanasile Ponno
Enthoru Chanthaadi Ponno Ninne Nokkikkondanganirikkan
Chakkara Chelulla Penne Ente Kunjumanasile Ponno
Enthoru Chanthaadi Ponno Ninne Nokkikkondanganirikkan
Aa Kaanum Maamala Choleelu Mungikkidannoru Neram
Aayiram Daivangalille Ningal Kannu Thurakkanjathenthe
Neelathilulloru Mundu Ninne Vaari Puthachoru Neram
Enne Kondaavilla Ponno Ninne Nokkikkondangaanirikkan
Muttathe Moovaandan Maanga Nammal Athara Thinnadi Penne
Aa Maavum Kondallente Ponno Ninne Kathiyerichathu Annu
Aduppil Kathana Theey Kandaal Oodimarayunna Penne
Nee Kathiyeriyana Kaanan Enne Kondaavilla Ponno
Chelotha Ninnude Kaikal Aa Mylaanjiyarachangu Chonne
Eppozhum Maanjilla Ponne Ninte Chelotha Kayyile Choppu
Kannadi Chelulla Kannum Chenchora Choppulla Chundum
Kaanan Kazhiyilla Daive Ninte Chelotha Vaarmudikkettu
Njaan Padum Paattukal Kelkkan Konji Kuzhayana Ponne
Ente Ponnumillathoruneram Aarkku Vendi Njaan Padum
Chelukalothiri Vanne Aa Chelotha Chelore Naattil
Ninne Polonnilla Ponne Innente Cheloore Naattil
Chakkara Chelulla Penne Ente Kunju Manasile Ponno
Enthoru Chanthaadi Ponno Ninne Nokki Kondanganirikkan
Ninne Nokki Kondanganirikkan Ninne Nokki Kondanganirikkan

Chakkara Chelulla Penne Malayalam Music Video | Unmesh Velappaya
The music video, directed by Anandh Unni, features the talented actors Kalakaran Sudhi, Athira Suresh, and Master Nadithan, who bring the song's essence to life with their expressions and performances. Their on-screen chemistry adds an enchanting charm to the visuals, making it a joy to watch.
Chakkara Chelulla Penne Song Details
Title of Song
Chakkara Chelulla Penne
Vocalizer
Unmesh Velappaya
Lyricist
Abijith Sethu
Music Director
Abijith Sethu