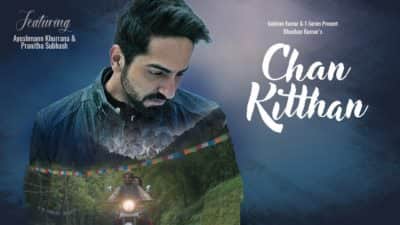 CHAN KITHAN LYRICS with MEANING IN ENGLISH – The song is revamped version of the most loved and a evergreen Punjabi folk romantic song by Ayushmann Khurrana. Just last artist has dropped the single track, produced by Rochak Kohli.
The additional lyrics of tune are from Kumaar and Suresh Triveni is video director featuring Ayushmann Khurrana & Pranitha Subhash.
CHAN KITHAN SONG LYRICS TRANSLATION AYUSHMANN
Kajle ton zyada kaale lagde eh ujaale
Tere bin oh ve mahiya
Thandiyan hawavaan aaiyan
Neendran udaa lai gaiyan
Akh na eh sowe mahiya.
Without you, the light seems even darker than kohl to me,
The cold winds took away my sleeps
My eyes don't sleep now.
Teri yaad ch jagdi rahi
Main taan taareyan de saath ve.
With stars, I kept awake missing you.
Chan kiddan guzari oye,
Oh chan kiddan guzari oye raat ve
Sachi dasde jo ae baat ve.
Oh my moon, how did you spend your night ?
Tell me the truth, what's going on ?
Sanu dilon zara mehsoos taan kar
Mere naina di barsaat ve,
Feel me from your heart,
And the tears from my eyes.
Chann kithan guzari oye
Ho chan kithan guzari oye raat ve.
Tutte taareyan ton mangna main ae ki ve
Tere naal mera lagna ae jee ve -x2,
What could I possibly wish from shooting stars?
While I you only are supposed to make me comfortable/normal.
Tere bin mere saah nai challne
Ik tere wich meri hai zindagi ve.
Without you, I won't be able breathe,
My life resides in you.
Chan bani na tu pathran di tarah
Kade samajh mere jazbaat ve.
Oh my love,  don't become a stone heart person,
Sometime try to feel my emotions.
Chan kiddan guzari oye,
Ho chan kiddan guzari oye raat ve.

Tere khayal di tasveer laike
Vekhan tere raste raahan utte behke,
Bhul gaya tu vi vaade tere
Aawenga tu cheti-cheti gaya si eh kehke.
Having your thoughts in my heart,
I await you on the paths you may pass by
You have forgotten your promises,
Since you told you'd come back shortly.
Chann darran kite ki reh na jawe teri
Parchayi mere haath ve.
Dear, I am afraid to loose you,
And live with your illusions only.
Chan kiddan guzari oye,
Ho chan kiddan guzari oye raat ve.
Ho moon of my life, how did it go over the night ?