Chellakuttiye Lyrics (Avastha Love Song) AKA 'En Chella Kuttiye' featuring Srinish Aravind by Jecin George & Pearle Maaney is the latest Malayalam love song.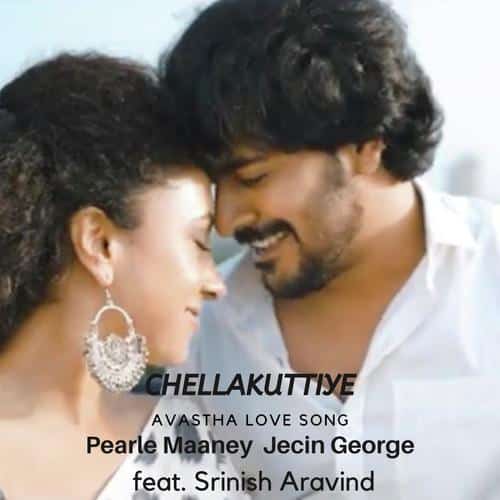 | | |
| --- | --- |
| Song: | Chellakuttiye (Avastha Love Song) [feat. Srinish Aravind] |
| Artist(s): | Jecin George, Pearle Maaney |
| Lyricist(s): | Pearle Maaney |
| Composer(s): | Jecin George |
| Director: | Sharath Davis |
AVASTHA |CHELLAKUTTIYE MALAYALAM SONG LYRICS | SRINISH ARAVIND
Yar Ivalo Kan Thediyatho,
Kathiruntha En Kadhaliyo,
Kankalukkul Thendral Itho,
Parthathume Minsaramitho,
En Chellakuttiye En Kannin Maniye,
Nee Katum Kopam Kadhal Endru,
Unnai Katti Azhaikka,
Oru Mutham Kodukka En Nenjam Thavikka,
En Chellakuttiye! Oh! Ho! En Kannin Maniye!
Kankalil Mounam Varthayil Thapam,
Thevaya Kanne Intha Kopam,
Moochinil Vegam Pechinil Bharam,
Thanguma Kanne Nanum Pavam,
En Kadhalai Neeyum Theendamal Theendi Vitttayi,
Nanum Lockdown Anene,
Nee Azhuthal Antha Meghangal Keezhe Varum,
Un Kankal Thudaykkum,
En Chella Kuttiye En Kannin Maniye,
Nee Kattum Kopam Kadhal Yendru,
Unnai Katti Azhaikka Oru Mutham Kodukka,
En Nenjam Thavikka.

Chellakuttiye Music Video | Jecin George
Chellakuttiye is a romantic Malayalam song, featuring stylish actor Srinish Aravind in the music video. Jecin George is the singer of the Malayalam lyrics, as well as the composer of the sensible single track music.
Pearle Maaney is the songwriter who has delivered adorable lyrics. Sharath Davis is the director of the romantic music video for 'Chellakuttiye Lyrics' released by Pearle Maaney on his official YouTube channel.