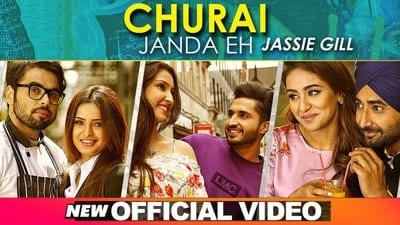 CHURAI JANDA EH LYRICS by JASSI GILL – Another promising song "Churayi Janda Hai" in voice of "Jassie Gill" from the fresh Punjabi movie HIGH END YAARIYAN has released today.
It's a romantic song and Jassie Gill has magnificently hummed the Punjabi lyrics for it, music tune is composed by Gold Boy. He is also the director of churayi janda e song music.
Nirmaan is lyrics writer and music video from film is live on Speed Records (YouTube). Are you looking for English translation of Churai Janda eh? Below are the links to English translation pages.
So you can get to know the meaning of each song line.
CHUARI JANDA EH SONG LYRICS
Mere dil nu hon laggeya ae ki nai pata
Sab badleya-badleya lagda ae
Kyun nai pataa (x2),
Uthde behnde jaagde saunde,
Koi khaaban wala mehal banayi janda ae.
Koi vaar-vaar akhan agge ayi janda ae,
Koi mere kolo mainu hi churayi janda ae (x2).
Main meri musibat da ki hall karanga,
Dil karda ae ke tere naal gall karanga,
Main roz nikalda tere sajjna ghar wal nu,
Vaapas aa jana kehke,
Ajj nai kal karanga,
Jiwe kise ghazal di dhun
Mere kanna ne layi sun,
Eh sara din ohnu hi gun-gunayi janda ae.
Koyi var-var akhan aggay aayi janda eh
Koyi mere kolon mainu hi churai janda eh (x2).
Tu door hoke vi door nahi,
Tu naal hoke vi naal nahi,
Jo pehlan rehnda si haal mera,
Ajj kal oh mera haal nahi,
Hanju bhul gaye raah,
Akhan hoiyan beparwah,
Koi bullan utte haase je le'ayi janda ae.
Koyee vaar-vaar akhan agge ayi janda hai,
Koyee mere kolo mainu hi churayi janda hai (x2).
Album: High End Yaariyan (2019)
Song Name: Churai Janda Eh (Punjabi)
Singers: Jassi Gill
Lyricist: Nirmaan
Composer, Director: Gold-Boy
Label: Speed Records
MORE ROMANTIC SONGS BY JASSI GILL
MORE SONGS FROM HIGH END YAARIYAN FILM
Enjoy the Jassi Gill's new beautiful Punjabi song "Churayi Janda e" from the motion picture High End Yaariyan with its full lyrics and music video, released by one and only music label Speed Records.